| | |
| --- | --- |
| | |
| Your own view | Public view |
Here is a little warning raised by Jaxbot over at SocietyofCode.com. Windows Phone, like most phones these days, embed the location your pictures are taken in their EXIF data.  This is not by default, but some people may have forgotten that they said yes to this.
Secondly, when sharing via SkyDrive (even to twitter, which is of course public) users may be falsely re-assured by the absence of the map widget that their location data is not publicly visible. It is not, via the SkyDrive user interface, but can easily be retrieved by downloading the picture and looking at the EXIF data.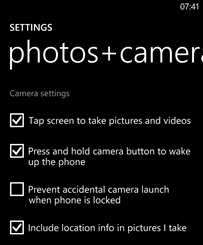 Of course this news is obvious to expert users, but as John McAfee, who's location in Guatemala was outed by the EXIF data in the iPhone picture used by a reporter, discovered, it is still pretty easy to slip up. 
If you do not want your pictures to tell your location story, it would be wise to turn of location services under settings > Applications > Photos and Camera >Include location info in pictures I take.
Of course if you are not in fact a cloaked hacker, a fugitive from the police or being stalked by your ex, including your location data can be very useful when it comes to putting your pictures on a map, so automatically turning it off and losing the data is probably not the best idea.
Is leaking your location data something our readers ever worry about? Let us know below.