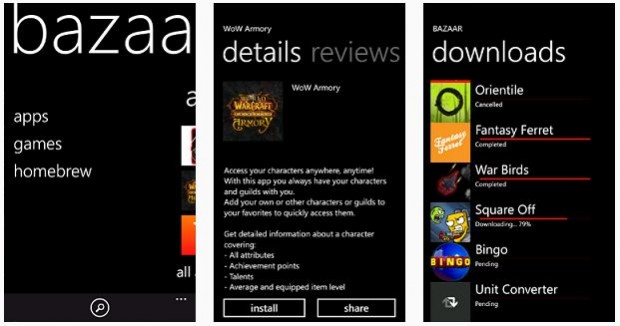 Apple's iPhone has a huge homebrew app store called Cydia which hosts both pirated and homebrew apps. Its time for a Windows Phone alternative of the same with little twist of not allowing pirated apps. Its called Bazaar and currently in beta working only on fully unlocked Windows Phone devices. It allows you to browse applications by categories, share, download and install them directly within your device without the need to connect your device to your PC.
Coming soon features,
• Creating an account within Bazaar
• Managing favorites applications list and the ability to download and install them as a batch process (very useful after reset/flashing new ROM version)
• Add ratings and comments for applications
• Submit new applications via Bazaar web site
• Online search in Bazaar applications repository
You can find more details on it here.