Audio editing software for PC has become a staple in shaping and refining audio recordings for various projects. That includes music production, podcasting, video editing and creation, or any other creative project. However, choosing the right tool for the job can be tricky.
So, here's a brief introduction to the best audio editing software available this year. I've tested and compared various popular recommendations, but 7 solutions made the final cut. Read on to find out which one suits you best!
What Is the Best Software for Audio Editing?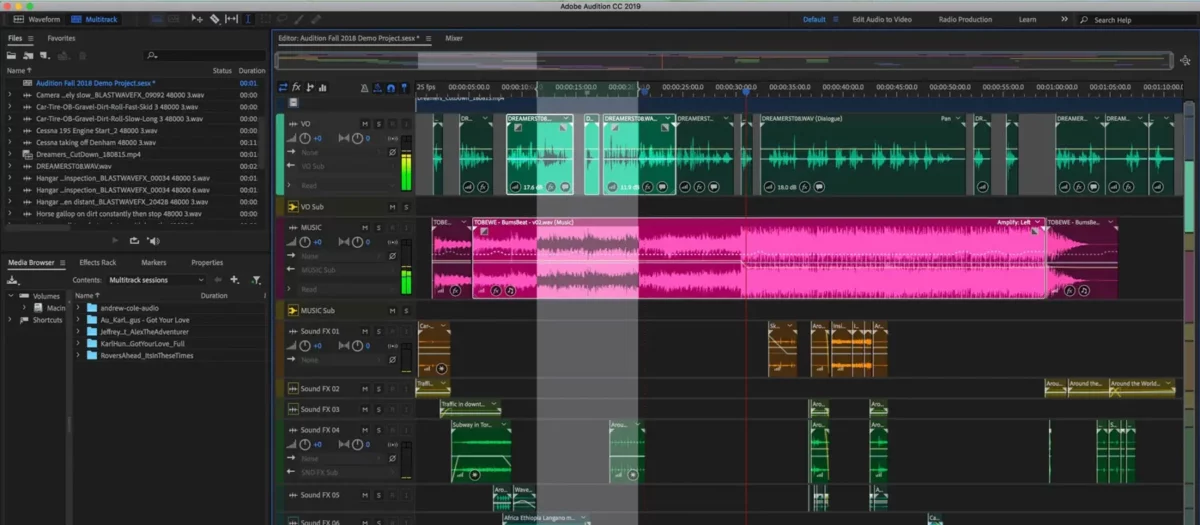 Adobe Audition is one of the most popular audio editing software that continues to push industry boundaries. The app is updated every year with new features alongside compatibility with the latest OS versions.
Audition is also highly versatile. You can use it to edit single-track audio files or pull multiple tracks from different sources for recording and layering sounds. It offers various tools for precise audio editing, including:
Waveform and spectral display
Time-stretching
Pitch correction.
If you already use other Adobe Creative Cloud applications like Premiere Pro, Audition seamlessly integrates with them, simplifying your workflow.
Pros:
Professional grade digital audio workstation
Regular updates
Cross-platform compatibility
Cons:
Cost
Steep learning curve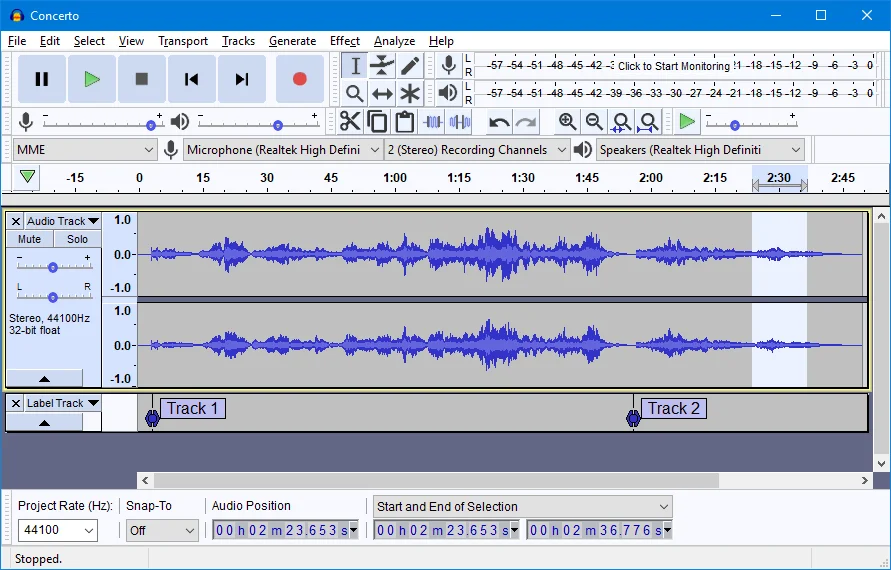 If you're looking for a free audio editor, Audacity is one of the most efficient tools available in the market. It's an excellent choice for users who need software for intermediate editing tasks without burning a hole in their pocket.
Additionally, Audacity is open-source. It has a dedicated community of developers and users continuously developing the app. Just like Audition, Audacity allows multi-track editing and provides a bunch of essential editing tools, like:
Cut, copy, paste
Delete
Noise reduction
Pitch correction.
The app supports a range of audio effects and plugins, and you can even add third-party plugins to expand its capabilities.
Pros:
Free and open-source
User-friendly interface
Readily available community support
Cons:
Lacks some advanced features
Less polished interface compared to competitors.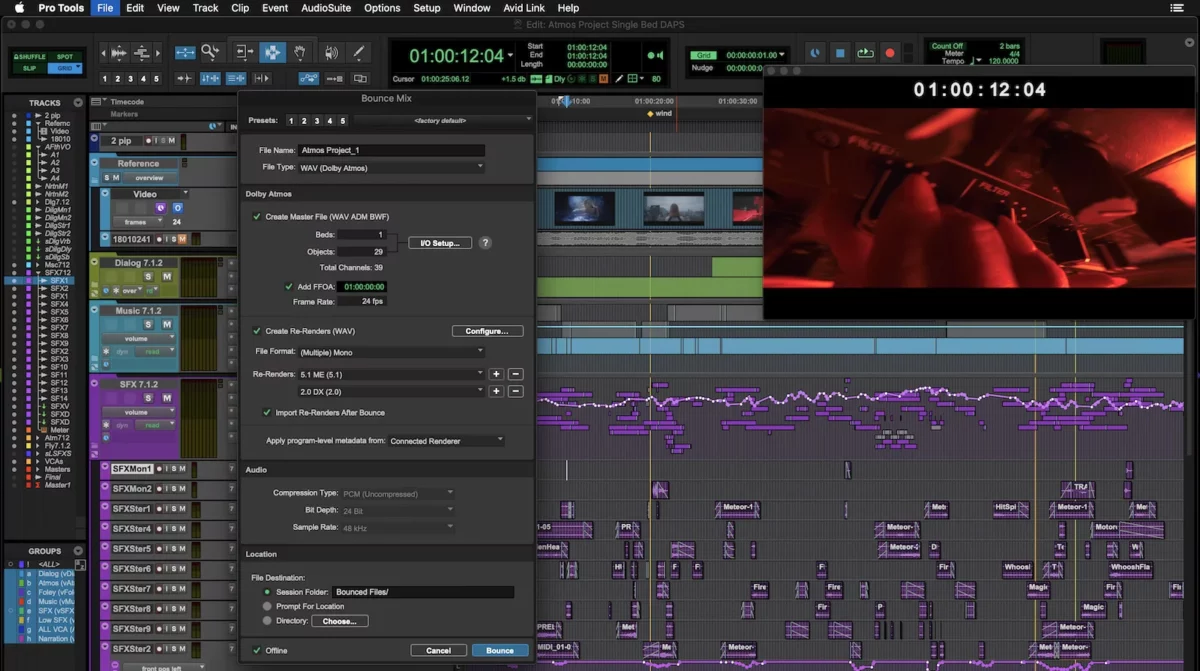 Pro Tools is a flagship digital audio workstation (DAW) that has long been considered the industry standard for audio professionals. It's widely used in music and post-production for film and television. It includes extensive editing and production tools for users to edit, produce, mix, master, and export high-quality audio for professional setups.
In a nutshell: this is a serious app.
It includes features like real-time effects processing, automation, and support for a wide range of audio formats. It also supports real-time collaboration, allowing multiple users to work on the same project simultaneously.
Being a fully-fledged digital audio workstation, Pro Tools comes with a steep learning curve. Moreover, you get virtual instruments and MIDI capabilities if you want to create music, too.
Pros:
Advanced mixing capabilities
Excellent plug-in support
Collaboration features
Cons:
Steep learning curve
Requires high-end hardware to run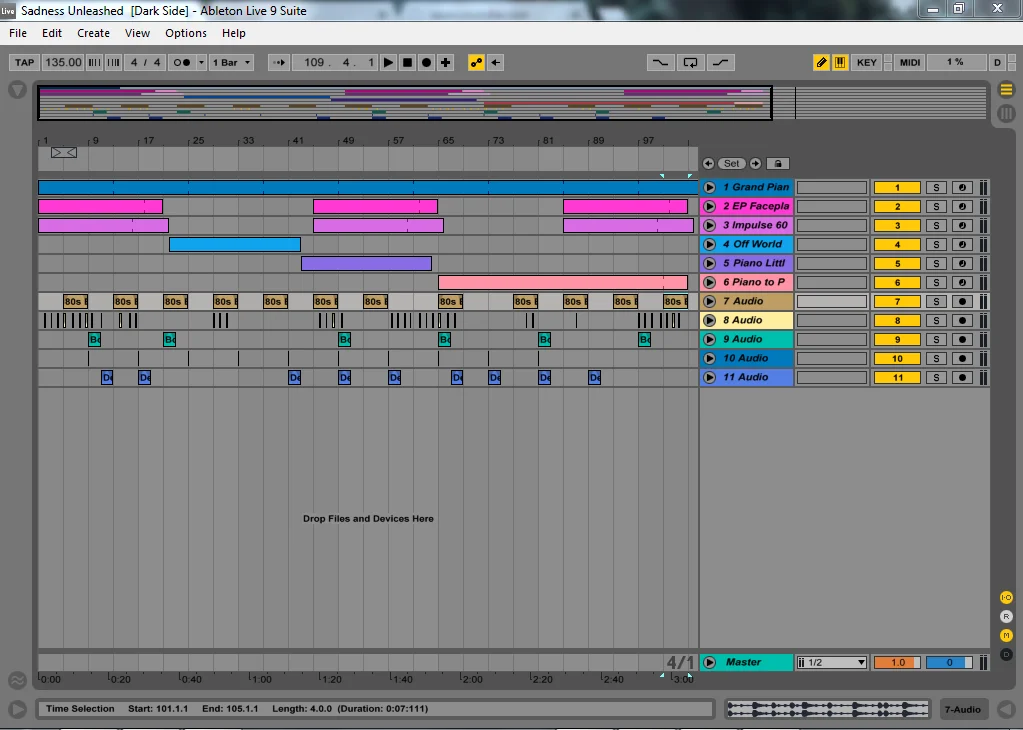 Ableton Live is a versatile digital audio workstation. It's mainly favored by electronic music producers, DJs, and live performers. It also introduces some very interesting features for live performance recording and studio creations.
For example,  Session View allows users to trigger and arrange audio and MIDI clips in real-time. The Standard edition supports up to 256 input and output channels and includes advanced features like MIDI production and editing. The Audio Warping feature lets you adjust the tempo and timing of audio clips on the fly, making it easy to experiment with different rhythms.
Pros:
Editing live performances
Real-time control of music
Dedicated user community
Cons:
Not the best choice for traditional mixing and editing
Unique workflow can be challenging for newcomers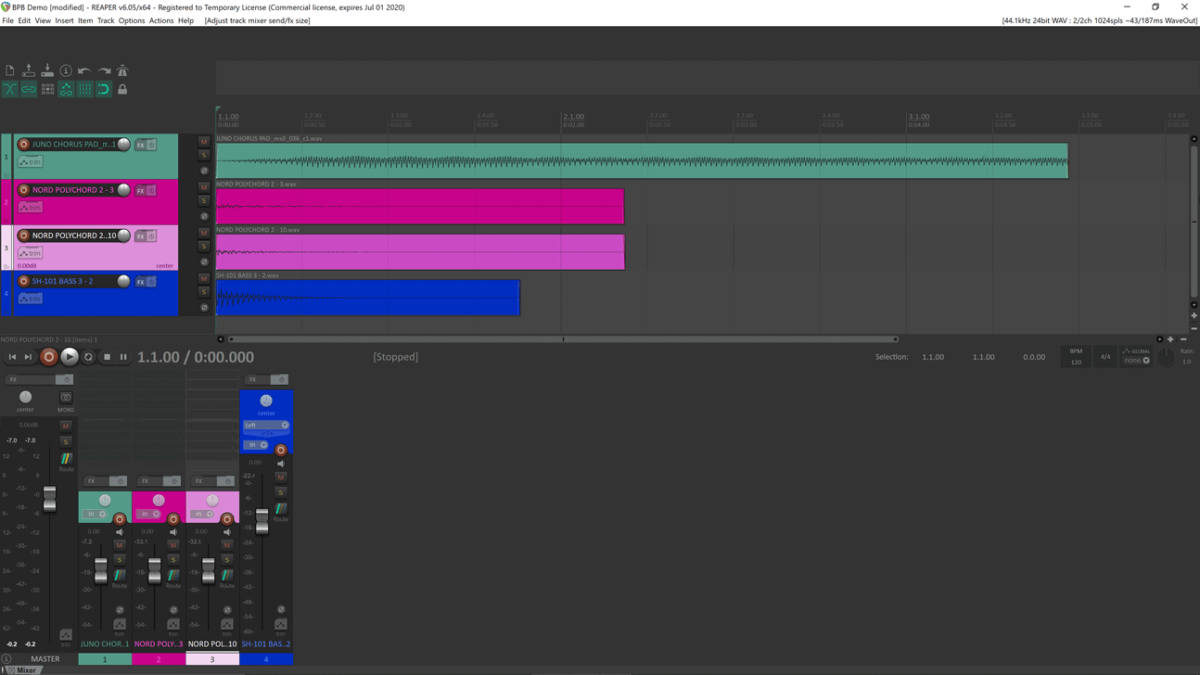 REAPER is a powerful and cost-effective digital audio workstation and MIDI sequencer. It's a compelling option for a wide range of audio-related projects. Furthermore, it's known for its efficiency and low resource usage, which makes it perfect for old or less powerful software.
One of the standout features of Reaper is its customizable interface. You can easily tailor the UI to your specific workflow and arrange the windows, toolbars, and menus. Reaper also excels in multi-track recording, making it suitable for a wide range of audio projects, from music production to podcasting.
Advanced users can take advantage of Reaper's scripting capabilities to create custom functions and macros for repetitive tasks.
Pros:
One of the most affordable options on this list
Extensive customizability
Regular updates
Dedicated community support
Cons:
Less pre-packaged content
Steep learning curve for beginners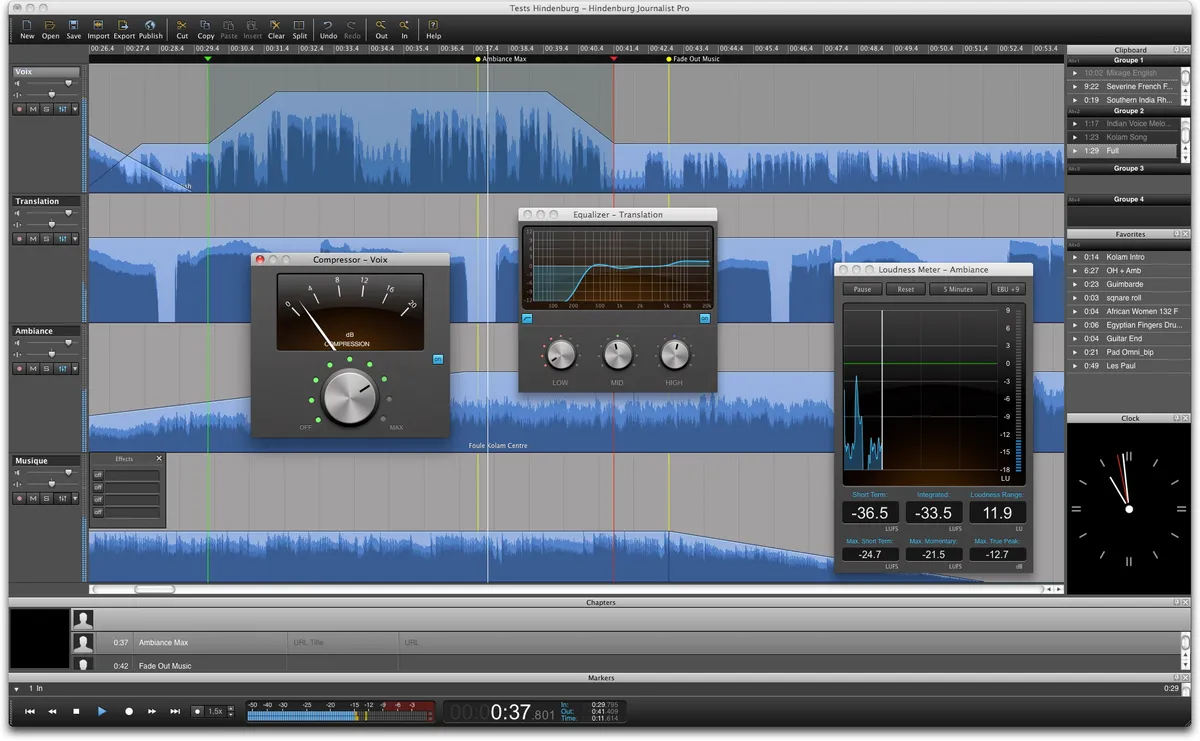 Hindenburg Pro 2 is a professional-grade audio editing software mainly aimed at journalists and content creators who produce podcasts and radio shows. It's an all-in-one recording studio, allowing you to:
Assign tracks to separate inputs
Arrange files you have recorded from external sources
Edit tracks.
Since the app is mainly geared toward podcasters, it has a very streamlined interface. You can easily add intro and outro music to your podcast episodes, reducing the work you need to do in post-production. Hindenburg Pro 2 also offers some really innovative features, like noise reduction and automatic leveling, ensuring a professional and polished result.
With Hindenburg Pro, you also get access to a vast library of sounds from Soundly that you can use in your episodes. Premium tiers provide advanced features like automated transcription.
Pros:
Podcast-focused design
Noise reduction and automatic sound leveling
Built-in publishing to podcast-hosting platforms
Cons:
Specialized use case, not suitable for music production
Lacks advanced audio manipulation features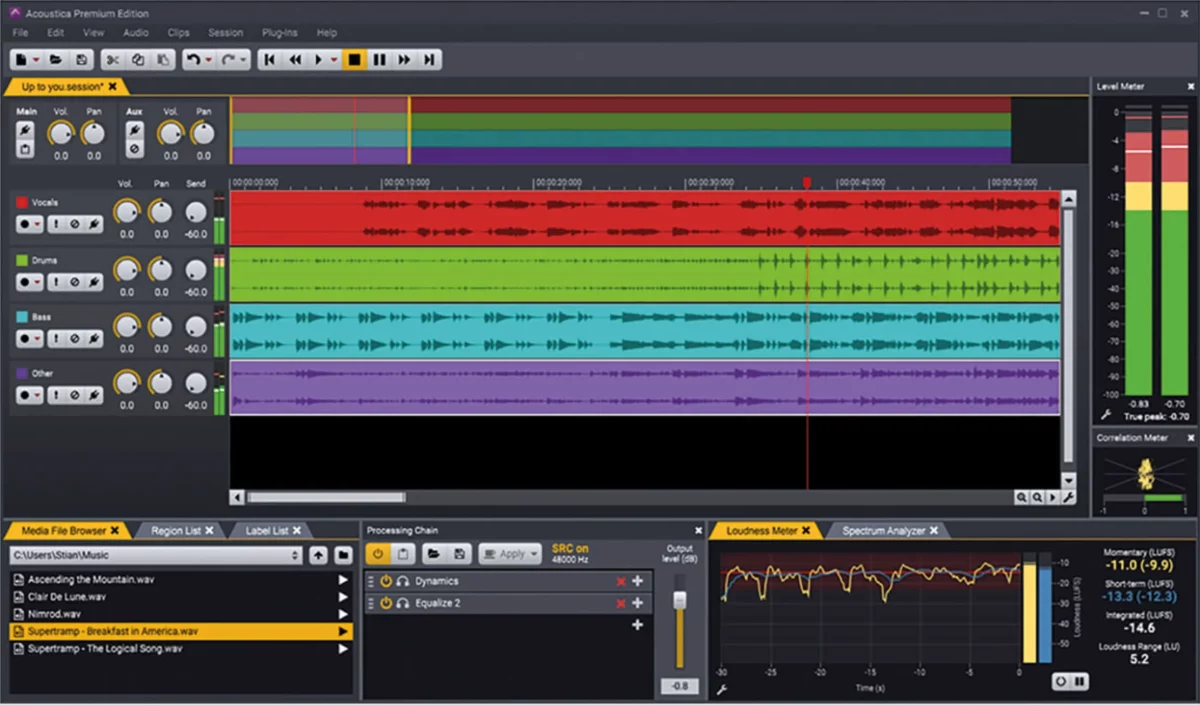 Acoustica is a high-resolution audio editor with support for 32-bit audio and sample rates of up to 384 kHz. Its user-friendly interface, affordability, and audio restoration capabilities make it a valuable tool for creating professional-sounding content.
The app supports multi-track editing, allowing users to work with multiple audio and MIDI tracks simultaneously. You can use the app to edit single-track waveforms or multi-track mixing alike. It also includes tools for audio restoration, such as noise reduction and click/pop removal, making it valuable for cleaning up old recordings.
Acoustica has a collection of built-in audio effects and supports VST and DirectX plugins.
Pros:
User-friendly interface
Affordable pricing
Audio restoration tools
Cons:
Limited pre-packaged content
Lacks advanced capabilities
Testing Parameters
To create this list, I tested over 15 audio editing software for PC and compared them based on the factors below. I focused on the recording options, channel support, ease of use, and price. In the end, I selected 7 tools that performed the best in these areas.
Check out this comparison table:
| Application | OS Compatibility | Recording Options | Number of Channels | Price | Support and Updates |
| --- | --- | --- | --- | --- | --- |
| Adobe Audition | Windows, macOS | Advanced | Multitrack | Subscription | Regular updates |
| Audacity | Windows, macOS | Basic to Advanced | Multitrack | Free | Community-supported |
| Pro Tools | Windows, macOS | Advanced | Extensive | Subscription | Regular updates |
| Ableton Live | Windows, macOS | Advanced | Multitrack | Paid, Free Trial | Regular updates |
| Reaper | Windows, macOS | Advanced | Extensive | Affordable, Free Trial | Active development |
| Hindenburg Pro 2 | Windows, macOS | Basic to Advanced | Multitrack | Paid, Free Trial | Regular updates |
| Acoustica | Windows, macOS | Basic to Advanced | Multitrack | Paid, Free Trial | Regular updates |
Factors to Consider When Choosing Audio Editing Software
There are many things to keep in mind when browsing for audio editing software for PC. For example, you'll need to consider the type and format of the audio and what you'll do with it. EDM production will be vastly different than live studio recording.
And that's just the tip of the iceberg!
Below are the most important factors you should take into account:
1. Compatibility with PC Operating Systems
This one is kind of obvious but: Make sure that the software is compatible with your operating system. On top of that, your PC should be able to run it flawlessly.
2. Recording Options and Number of Channels
Check if the software allows you to record from external sources and multiple channels, depending on your situation. For instance, you might only need a couple of channels for editing a video or a podcast episode. On the other hand, you'll need to edit over a dozen tracks for music production.
3. Export Options
The software you plan to use should be able to export to the file format you need. Most software supports MP4, but if you need proprietary formats, make sure that the app includes it.
4. Price and Affordability
If you're an amateur editor, you don't want to spend a ton of money on editing software, especially if you won't publish the audio to the public. Professionals, however, will need to pay for more advanced tools.
5. Support and Updates
Some audio editing software can be expanded with add-ons for more features. Make sure that the developer supports what you need. In addition, you should be using regularly updated software so that you aren't stuck with outdated apps.
You may also be interested in:
Does Windows Have Audio Editing Software?
Windows 11 does offer a basic audio editor called the Voice Recorder. It allows you to trim and split recorded sounds. However, it's an extremely basic editor that only allows you to work on audio recorded within the app. So, it's no surprise most people turn to third-party audio editing software for PC, like the ones mentioned in the list above.
If you've made it here, mention your favorite audio editing app and why you use it in the comments below.