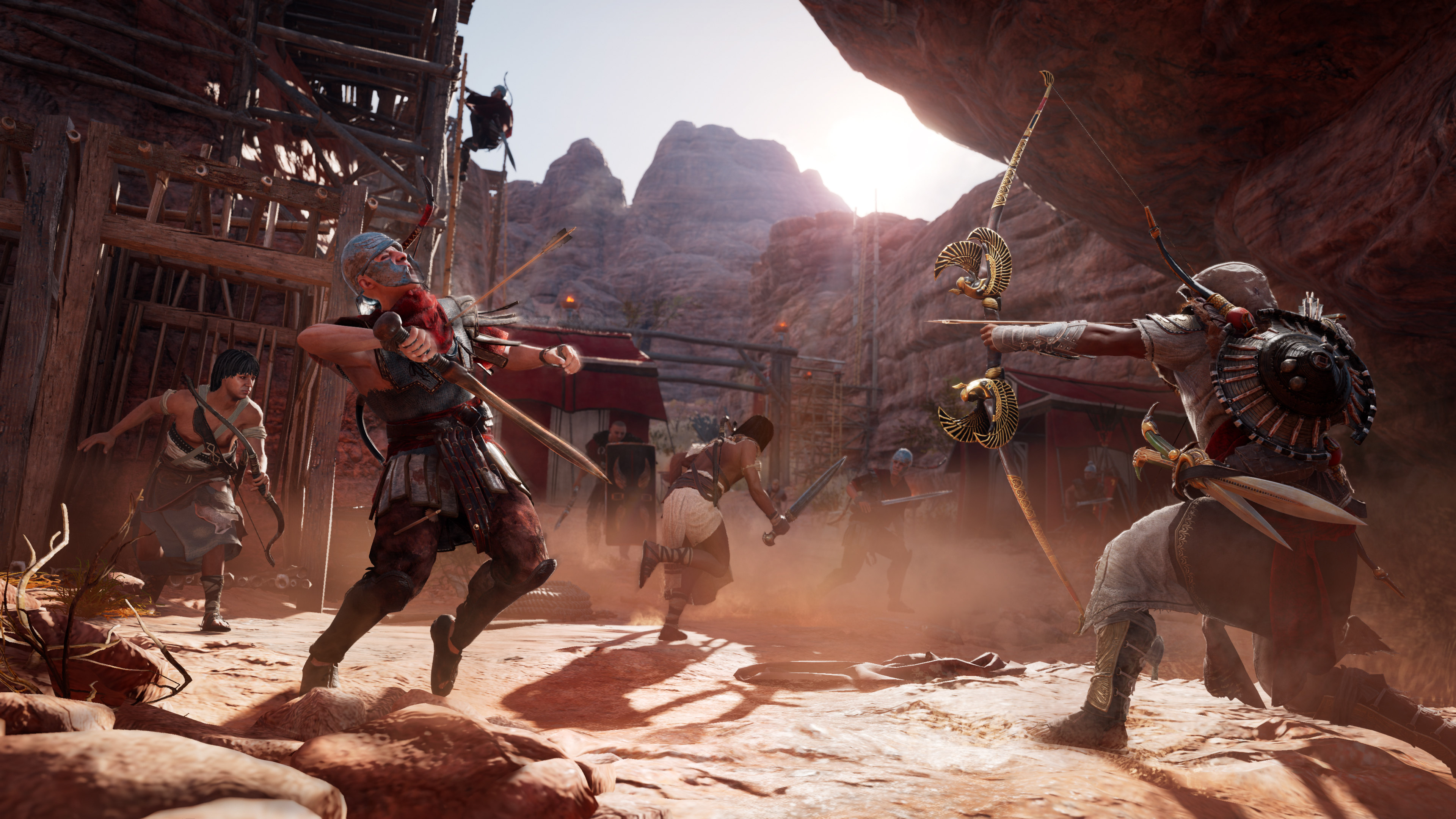 Alongside the Discovery Tour mode being added to Assassin's Creed Origins tomorrow which turns the game into an interactive museum for players, it will also receive a New Game+ mode.
Ubisoft detailed all you'll need to know about its New Game+ mode on the game's website. You can read this information below. It will be available as part of a free update.
What is New Game +?
New Game + (NG+) is an option that allows players to start a new saved game while keeping their current character progression, once they've completed the main story of the game.
What carries over into New Game +?
All character progression will carry over to NG+, including the following:
Equipment (weapons, shields, tools, outfits, mounts)
Abilities acquired and available ability points
Crafting status
Player level
XP
Inventory (crafting materials, arrows, tools, animal goods, trinkets)
What does not carry over?
Starting an NG+ save, players will restart at the beginning of the game, which will automatically reset some elements, and thus the following won't carry over:
Targets
Maps and discovered territories
Location completion
Quest completion
Senu's perception
Hidden blade will be unequipped (however, the crafting status will carry over once available in the story)
Quest items
Papyri
Are activities like the arena, Trials of the Gods, and Hippodrome already accessible from the beginning of New Game +?
All activities are tied to the progression of the game, so players will have to progress in the main game to regain access to them – just as during the regular game progression.
Is enemy scaling activated automatically with New Game +?
Yes, enemy auto level scaling is activated by default when starting an NG+; however, players can deactivate at any time if they wish to do so.
Will enemies be more difficult in New Game +?
When starting an NG+, the difficulty will be increased by one from your previous campaign. This means:
Easy ? Normal
Normal ? Hard
Hard ? Nightmare
Nightmare ? Nightmare
Will New Game + have any impact on the loot system?
The loot system will remain the same as usual.
Will there be any special rewards for completing the game in New Game +?
Yes, there will be a unique reward for completion of the game in NG+ – but we want to keep that reward a surprise.
Will New Game + override your current saved game?
No, NG+ is a separate saved file.
How do you access it?
The mode will be available after completing the main game. Players can access it by going to the title screen. A new option will be available on your saved game to start an NG+. Once chosen, a new separate save will be created.