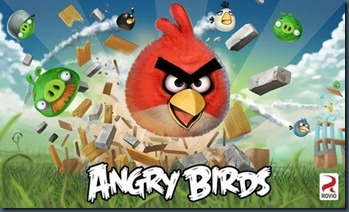 Oh not this again! Well, the Angry Birds are course to dominate the world. Hot on the heals of  news about the game coming to WP7, BBC has a story about the developer, Rovio, working on a version for the Wii, Xbox 360 and the PS3 coming out next year as well as a new Angry Birds 2. When talking about the latter, the chief executive Peter Vesterbacka said
It won't be a sequel or a prequel but a different type of game featuring the same characters.

"Let's say that you will see a lot more of the pigs," he revealed.

"The pigs will be a lot more active than just being slingshotted at by birds."
I am interested to see if the Xbox version takes advantage of the Kinect controller? I also wonder if the new Angry Birds 2 version will be the one that shows up on WP7. The Guys at Rovio seem to be cashing in on the current popularity of their franchise by expanding it more platforms which is a very wise business strategy.