1)Have you developed Apps for any other platforms before?If Yes What are they?
No, I am actually new to coding and programming. I started Studio Lyrica Productions just last month, so this will be the first game I make public. I am really learning as I go along.
2)Why did you choose WP7 as a platform of your choice?
Being a new developer, I thought I should start on a new platform, so I chose the wp7 platform. I also thought my app would make the biggest impact on a new platform since it wouldn't need to compete with an established library of tens of thousands of apps like other platforms already on the market.
3)Which one do you think as the single most feature you liked in WP7?
I really like the integration with Xbox live that is found on wp7. I feel it will bring more attention to gaming on the platform, and could really be a main feature that attracts people buy the phone.
4)Are you satisfied with WP7 Platform development tools?
The development tools are good. They were fairly easy to use and I found very few problems. I did request a developer phone last week, but mostly to fine tune the app I am working on.
5)What are the Apps you are developing now in WP7?
I am currently developing doodle Ship on the WP7. I started development on doodle Ship in late July, and hope to wrap up development in September. It should launch alongside the wp7 this holiday for all global markets.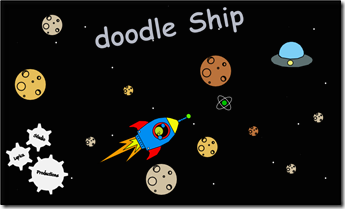 6)In what way Microsoft can improve their WP7 or What does WP7 lacks from?
I haven't looked too much at the technical aspects of WP7 to be honest. I believe it is an attractive platform with an unique UI. I do think some features such as copy and paste should eventually added in, but for a platform just about to launch I think it is quite impressive.
7)Future Plans of you?
doodle Ship is part of Studio Lyrica Productions' new doodle Series. This means there will be more doodle games to follow if doodle Ship is successful. One is currently being planned to launch sometime next year. I have also paid particular attention to the success of Angry Birds on the iphone, and have a similar concept to bring to the WP7 sometime next year. Overall, my plans are solely focused on bringing fun and entertaining games to the windows phone 7 platform.
I hope readers that are interested in doodle Ship can sign up to my twitter feed and/or subscribe to my youtube account for more updates and videos. http://twitter.com/studiolyricapro
Currently, work is still being done on the app, so I haven't had time to show the app up and running, but a video should be out before the end of August.
Please enjoy the announcement video to see a preview of what to expect of the game.