Is Copilot the best AI companion out there? Help us find out by answering a couple of quick questions!
Preserving and enhancing old photographs has become easier than ever, thanks to the incredible advancements in AI and its gradual integration into everyday life.
Even though users can create a vast array of content using AI, including architectural projects, clothes creation, free image generators, etc., users are also interested in bringing old photos back to life with vibrant colors.
This is where the AI photo colorizer tool comes into play, making it the go-to solution for adding vibrancy and realism to black-and-white or faded old images.
To see the results of how the AI photo colorizer tools work, below, you will find the photo we used for our testing. This ensures you can have a 'before' and 'after' view even when the software doesn't compare instances.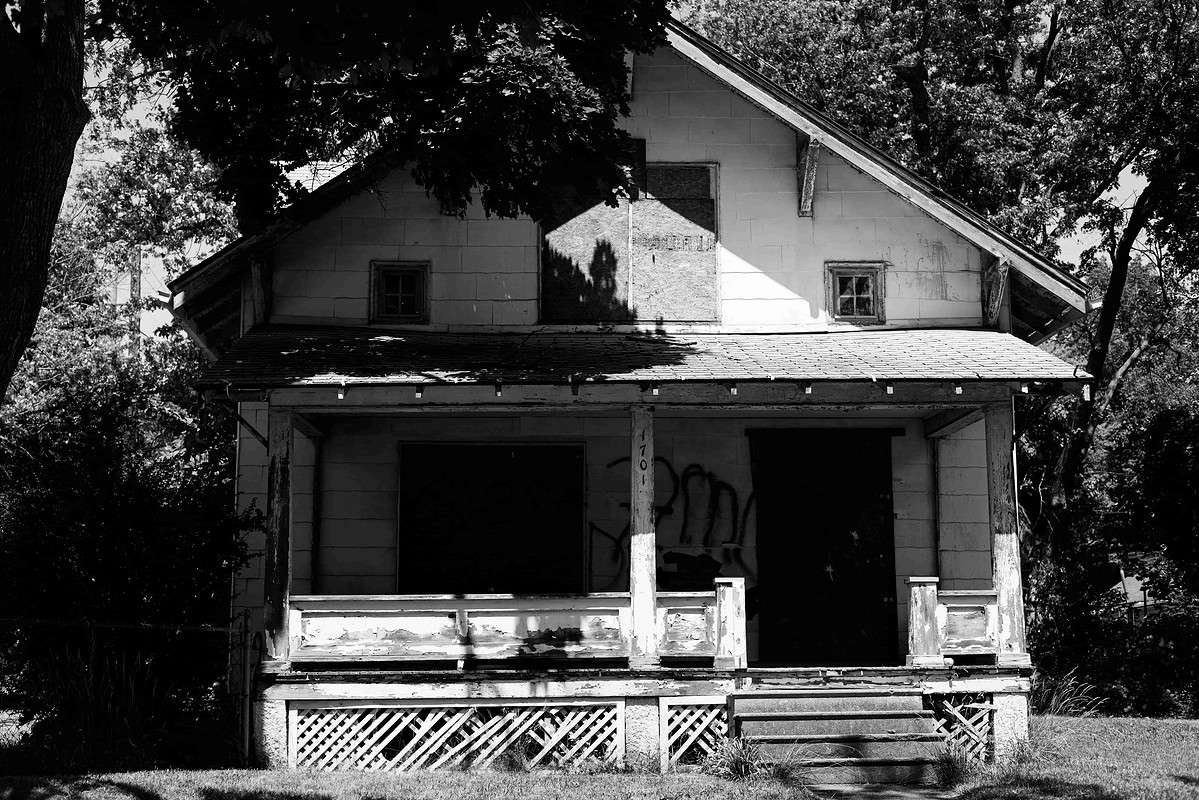 Compare the image above with the results below to see what these tools can do.
Now, let's dive into the details of the best AI photo colorizer software on the market and see which will magically bring your old photos back to life.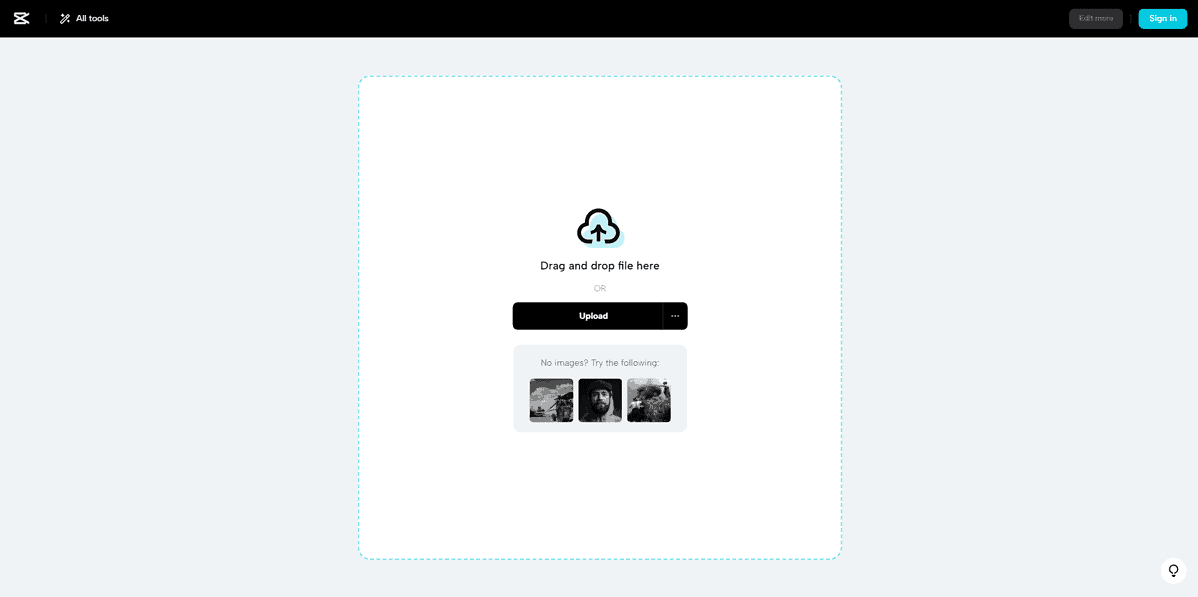 CapCut Photo Colorizer is the perfect choice for people who value simplicity and ease of use but are unwilling to compromise on the resulting quality.
This powerful tool has impressed us during our testing with its unique AI colorization features, which have produced the best results out of all software on the list.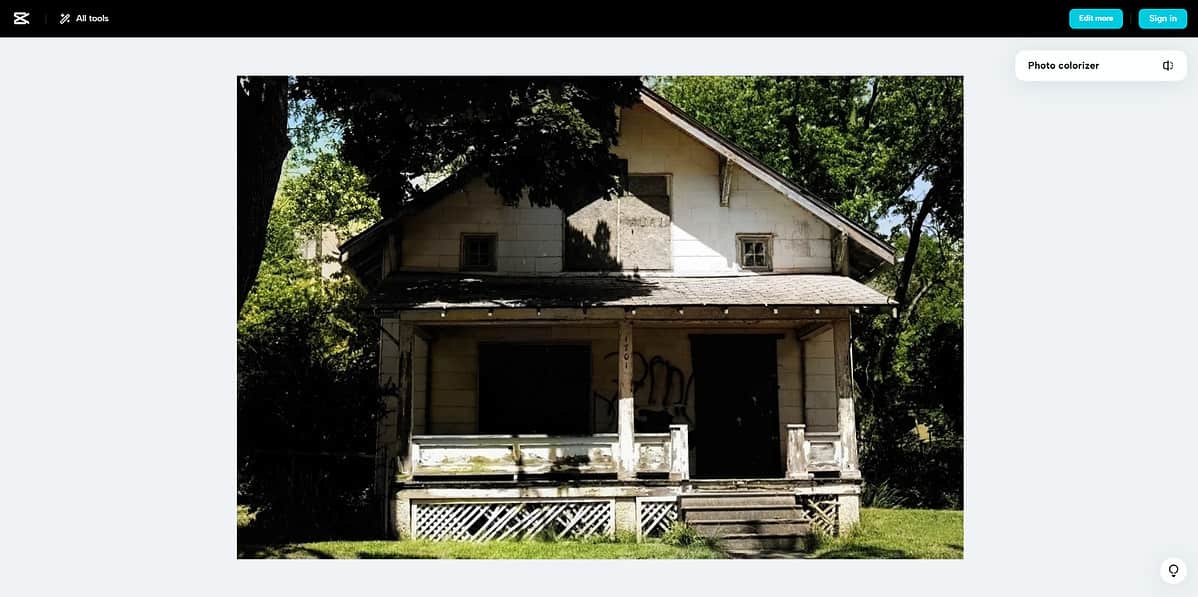 Above, you can see the results of using this tool to add color and bring a black-and-white photo of a house back to life. The quality level is excellent and is the only tool that didn't produce any colorization artifacts across the wooden front of the house, thus taking the first position.
Pros
Impressive clarity photo colorization feature without producing any colorization artifacts
User-friendly interface
Quick colorization process
Cons
It only offers limited customization capabilities
2. ImageColorizer – High-quality AI Colorization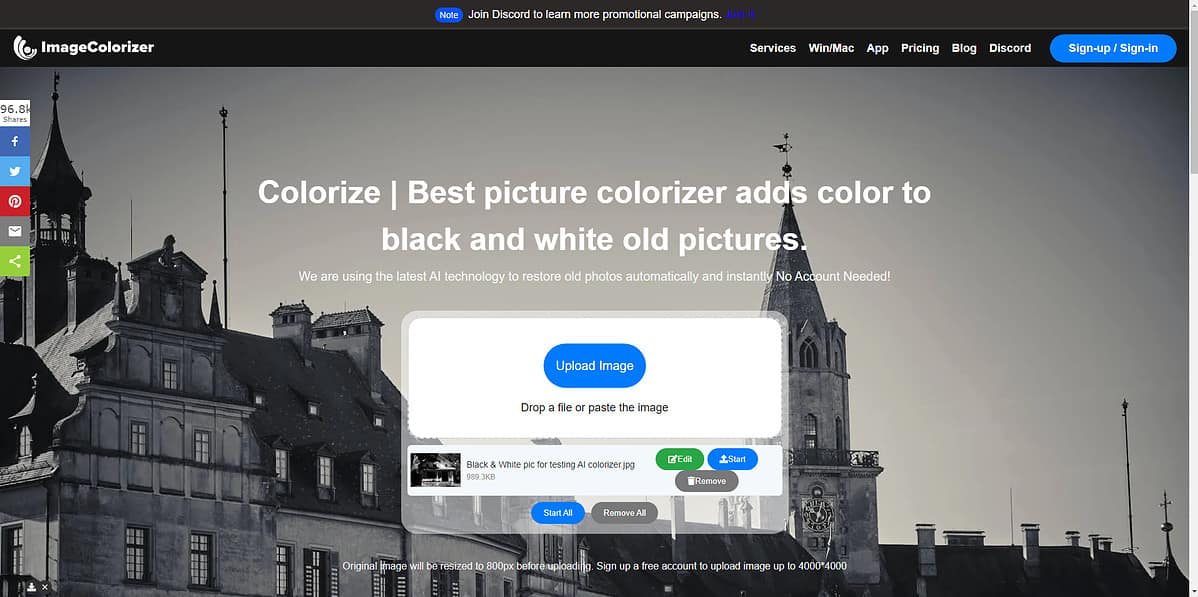 ImageColorizer took second place after our testing, offering users of every proficiency level access to a powerful AI image colorizer and some decent image-coloring results.
The advanced algorithms used to analyze and colorize the image work well, but the house's front deck contains some color artifacts that the AI did not adequately process.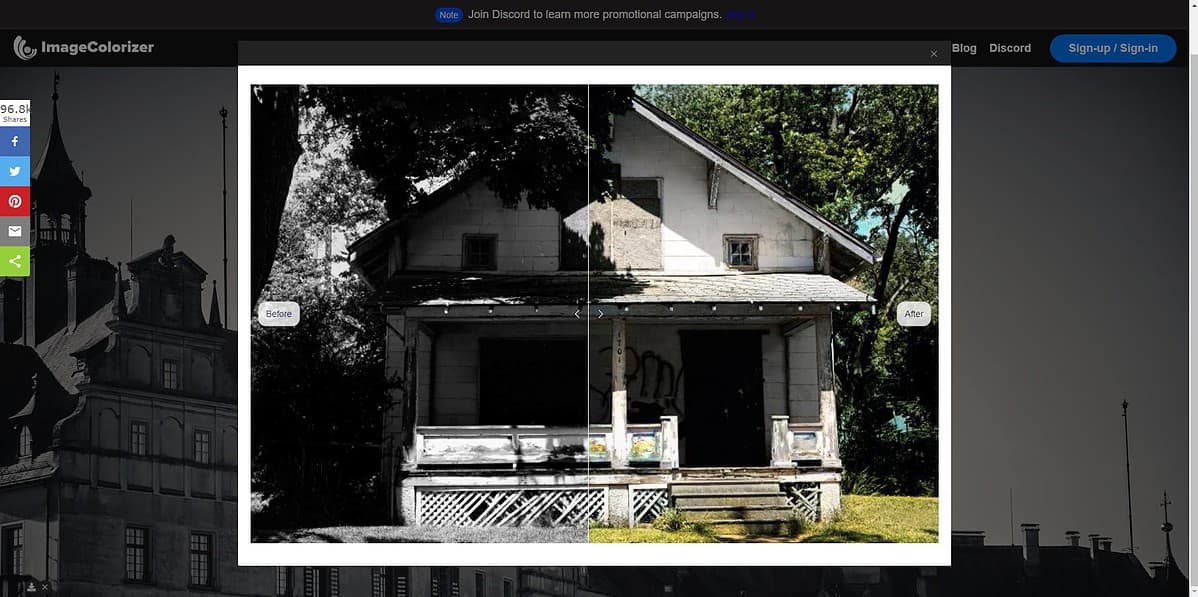 After the image has been colorized, you can crop, rotate, add filters, fine-tune brightness and darkness, annotate, add stickers, and add frames to the result, thus making it your own.
Pros
Good precision for the AI image colorizer, but with some artifacts
Produces colorized images that resemble reality
Output quality is outstanding, making it suitable for photographers
Cons
Some colorization artifacts are present after applying the effects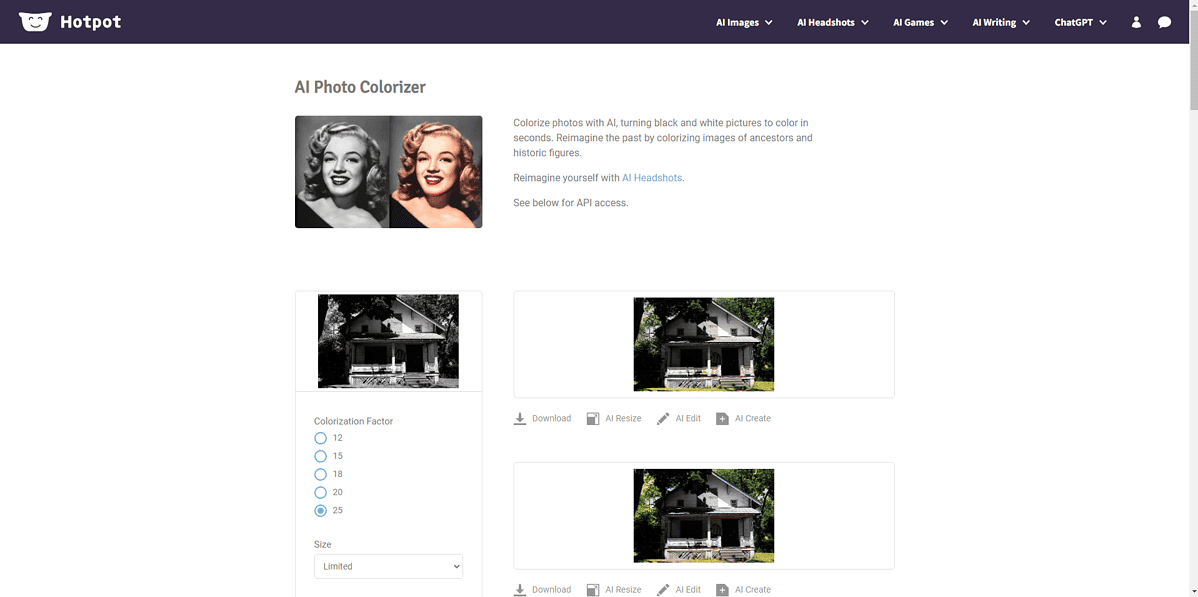 Hotspot.ai Photo Colorizer is another handy app powered by AI, which promises to colorize pictures and bring them back to the present time, no matter how blurry and two-tone they are.
As you can see from the results below, the image has been processed quite well, but the front deck wall of the black and white hour we uploaded has some colorization errors.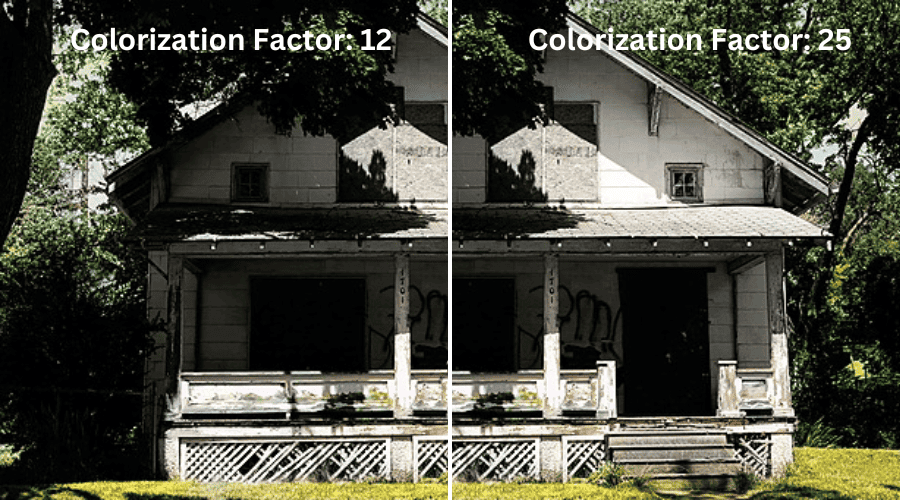 What made this tool stand out from the crowd is that you can choose from different levels of colorization. Above, you can see an example of the colorization effect using Factor 12 and then Factor 25.
Besides this customization, after you've colorized your photo, you can use one of the built-in AI editing options like AI Resize, AI Erase, AI Background Remover, AI Enhance Face, AI Replace, Add text, Add background, etc.
These tools ensure that the result will be exactly what you need.
Pros
Extensive range of AI-powered tools for post-processing images
Colorization factor customization options
Cons
Some testing is required to find suitable customization options for your needs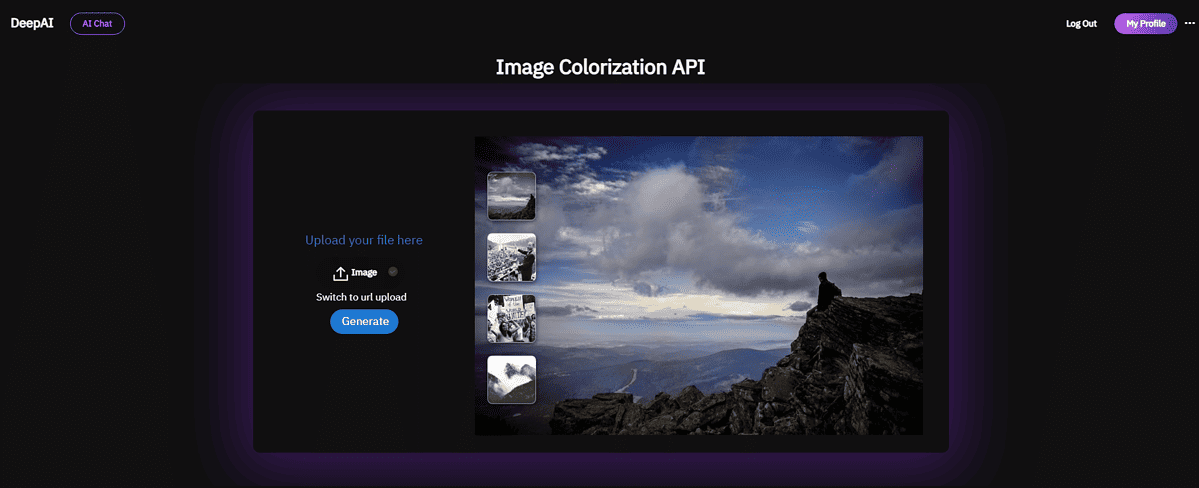 DeepAI Image Colorization API is our 4th choice of the best AI photo colorizer apps this year, showing some great promise but with more significant glitches than other software from this list.
That being said, this AI image colorizer still does its job and offers quality results. Even more, after you've colorized your picture, this software allows you to enhance the picture by modifying various editing settings.
Pros
The app is developer-friendly
Supports batch processing
Good enhancement options after the colorization process
Cons
Even more colorization artifacts can be seen in our testing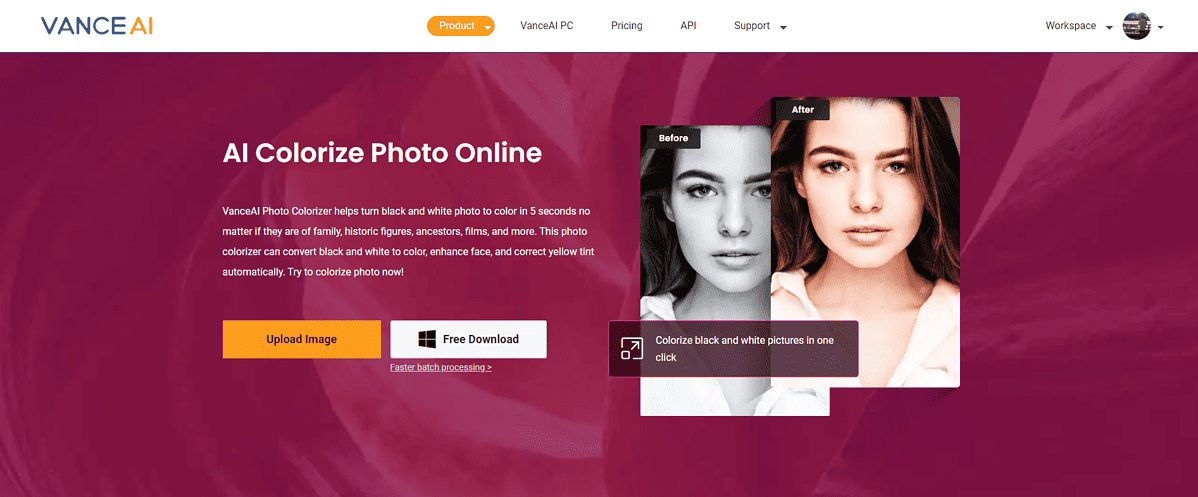 VanceAI Photo Colorization tool is designed for users who want a streamlined and easily accessible photo colorization tool. The interface is simple to navigate, and the options are clear, making it accessible to anybody.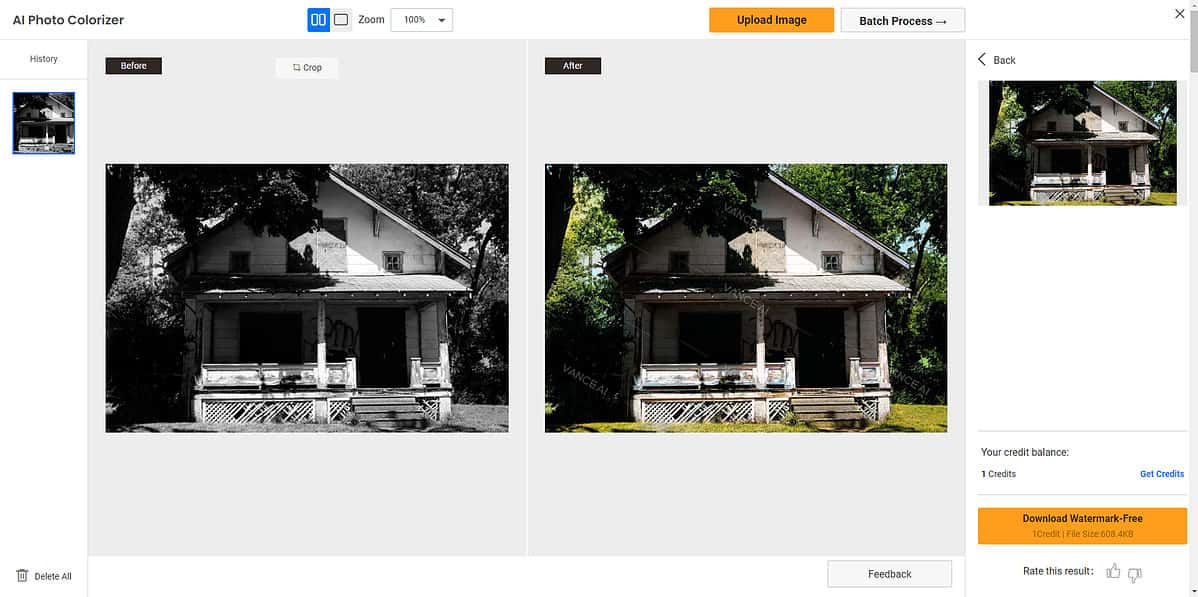 As you can see from the image above, our black-and-white photo has been colorized quite well by the software but maintains some of the same color artifacts that we previously mentioned for other software.
Unfortunately, this software also requires you to use credits to download images without the watermark added to the results, which is why this software is positioned last in our comprehensive guide.
Pros
User-friendly interface
Streamlined colorization
Side-by-side view of colorization projects
Cons
The number of advanced features and customization are limited
---
AI photo colorizer tools have revolutionized the way we breathe life into our old photos, no matter if you prefer a user-friendly approach or aim for precision and accuracy.
The software in this guide covers all variations and will allow you to say goodbye to black-and-white memories, so check it out today and share your perspective with us through the comment section.