Is Copilot the best AI companion out there? Help us find out by answering a couple of quick questions!
The Adobe Firefly vs Stable Diffusion comparison interests many hobbyists but also experienced users of generative art software. During my research, I noticed some crucial differences between them. So, let's see how they compare regarding the output quality, features, ease of use, and pricing.
One of the most critical factors here is the quality of the output. Here's the output for the prompt 'Retro futuristic boom box with sunglasses' with the default settings for both text-to-image AI generators.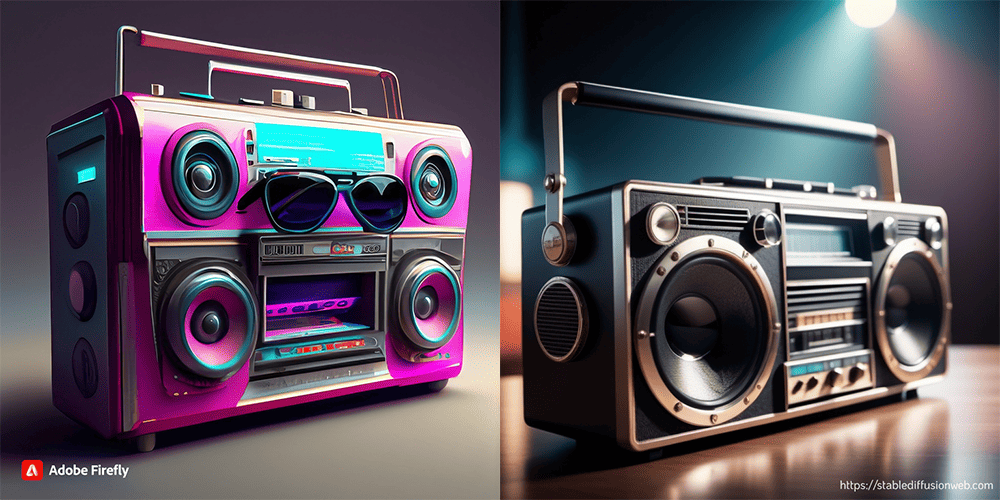 Adobe Firefly (left) and Stable Diffusion (right) outputs
Adobe Firefly vs Stable Diffusion – Features
Adobe Firefly offers plenty of features for an average user, while Stable Diffusion is open-source and more suitable for advanced users.
When it comes to features, I've noticed a significant difference. Adobe Firefly is a complete solution for various tasks, while Stable Diffusion offers only text-to-image functionality. Additionally, Stable Diffusion supports multiple extensions, allowing more advanced users to use it for other purposes.
Here are some unique features of Adobe Firefly:
Generative Fill
Text Effects
Generative Recolor.
Generative Fill
Users can upload a photo, select a portion of the image, and replace it with this tool. This was possible before the development of AI features, but the real benefit is that the selected parts can be replaced with AI-generated content. I decided to add an abstract party light to my retro-futuristic boom box:
Text Effects
Text effects marked the beginning of the new age of PowerPoint presentations. Now, they're back as an AI-powered style of text that can be used for various purposes. Here's what I got for the "Retro future boom" prompt:

Generative Recolor
This tool allows you to get an SVG file's color variations. Unfortunately, none of the previous outputs were in this format. To test this feature, I found a free image of a music party banner and recolored it in golden and twilight hues.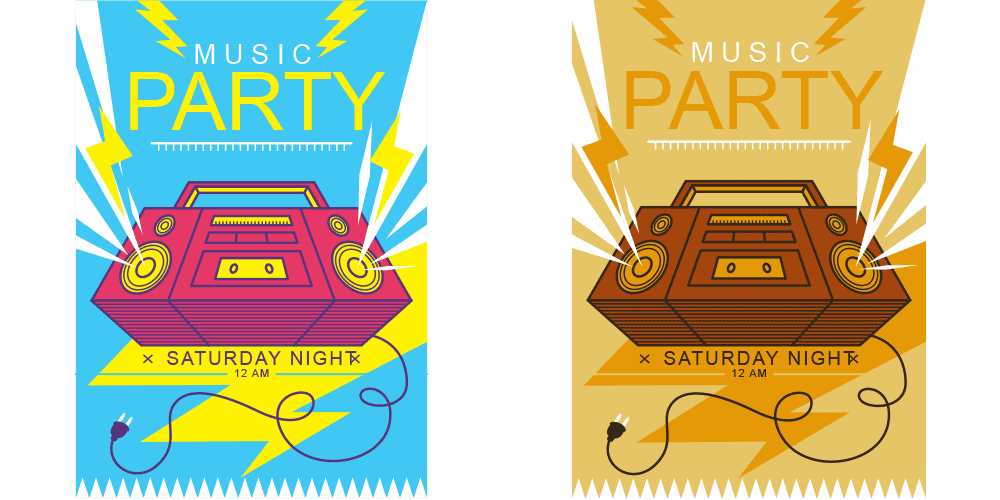 Unfortunately, Stable Diffusion doesn't have any of these features by default. You must install various extensions and deal with some coding to get similar results. On the other hand, this also allows more advanced users to get unlimited features tailored to their specific needs.
One more thing:
I noticed something interesting while doing my tests. Stable Diffusion states that there are "No limitations on what you can enter." On the other hand, Adobe Firefly didn't want to generate an image only because I mentioned a (part) of a forbidden expression.
While Adobe is putting a lot of effort into limiting the use cases of their tool, Stable Diffusion caters to users looking to pass these limitations.
Ease of Use and User Interface
How easy is it to generate images with these AI tools?
The good news is that both tools are straightforward to navigate. Within a few minutes, you can already focus on tweaking the settings to get the perfect result. However, some differences are noticeable even if I only consider the text-to-image functionality.
Before you can use Adobe Firefly, you must make a free account. On the other hand, you can access Stable Diffusion without an account.
Moreover, the initial interface in Firefly is a text box in which you can type in your prompt. Alternatively, you can start with some existing images showcased in the background.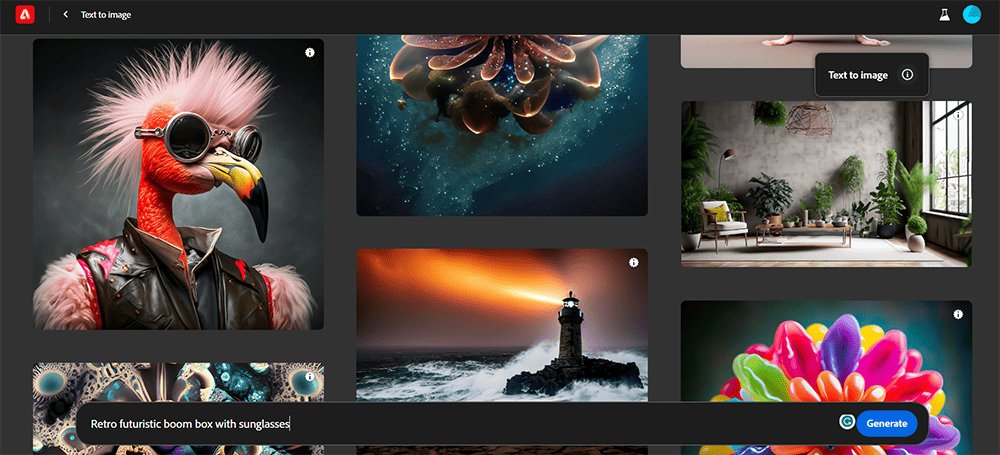 A few seconds after you hit generate, you'll have 4 images. More importantly, new options will appear on the right side of the screen. You can choose different styles and content types and adjust colors, lighting, and composition.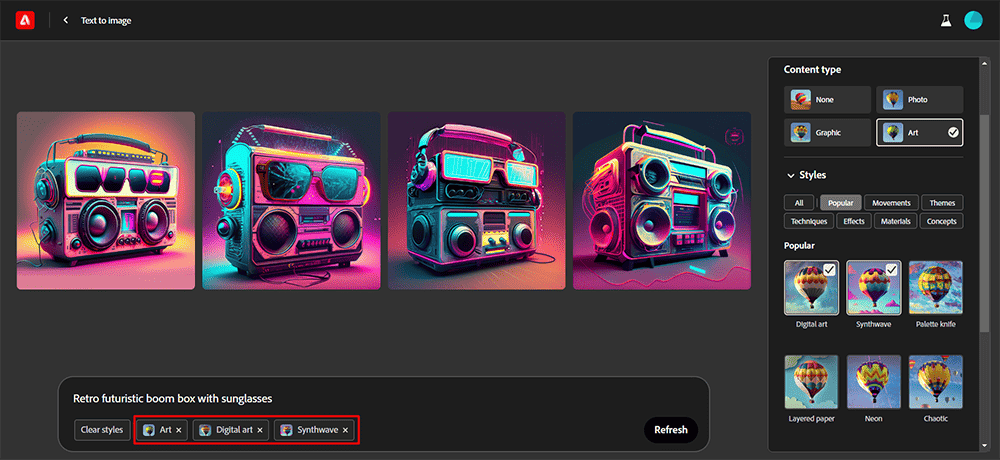 Overall, Adobe Firefly is highly user-friendly, offering plenty of options with a straightforward user interface. The whole process, from prompt revisions and additional settings, took me less than a minute (for this particular case.)
To test Stable Diffusion, I used XL Playground, which has a different interface. All additional settings are added together with the prompt. An interesting feature here is the Negative Prompt option, which allows you to define what you don't want to have in the final output.

The default style is cinematic, but you can choose from many more, like 3D models, advertising, and graffiti. This is the exciting part about Stable Diffusion – it comes with various premade styles that can be tweaked further with the extensions I mentioned earlier.
I prefer Adobe Firefly's ease of use and user interface over Stable Diffusion. Both in-browser AI art generators are powerful, but Adobe puts a lot of effort into graphically representing all features so they're immediately understandable.
Important: Since Stable Diffusion is open-source, many websites integrate the same features under different interfaces. For this comparison, I used the vanilla web version.
Pricing
Each Firefly prompt costs 1 generative credit. Stable Diffusion is open-source.
Adobe is an experienced company when it comes to pricing its tools. Regarding Adobe Firefly, you have two options: you can use it within the Creative Cloud subscription, or you can buy the subscription separately.
The good news is that you get 25 generative credits each month for free. All you have to do is to register for a free Adobe account. You don't even have to enter your credit card details initially.
The monthly subscription for Adobe Firefly is $4.99, and you get 100 generative credits and access to Adobe Fonts. Once you subscribe, the images you generate won't have the watermark anymore.
Stable Diffusion is an open-source software, making it one of the best free AI text-to-image generators. If you decide to use a different interface, you'll probably have to pay for it, with the prices ranging based on usage.
Installing it locally on your PC is the final option for running Stable Diffusion for free. This requires a decently powerful PC, so it's not worth it if you don't have at least 16 GB of RAM and a GPU with at least 12 GB of VRAM.
Adobe Firefly vs Stable Diffusion Head-to-Head Comparison
Comparing commercial and open-source software can be tricky. That's why I consider the most critical aspects that average users value. So, here's my summary regarding the Adobe Firefly vs Stable Diffusion comparison.
| | | |
| --- | --- | --- |
| | Adobe Firefly | Stable Diffusion |
| Free trial | Yes, 25 generative credits | Yes, open-source software |
| Number of outputs per prompt | 4 | 1 |
| Additional features | Yes | Yes, with third-party extensions |
| Freedom | Limited by Adobe ToS | "No limitations on what you can enter" |
| Available effects | 26 | Unlimited, based on technical knowledge |
| Negative prompt option | Yes | Yes |
| Release date | March 2023 | August 2022 |
If you can't fulfill your creative needs using either tool, I recommend you check out our list of 8 best text-to-image generators and find your golden middle.
Verdict
All things considered, Adobe Firefly is better for text-to-image AI art generation for an average user. If you're more experienced with generative art, then you'll appreciate Stable Diffusion, as it allows you virtually unlimited possibilities. The downside of Adobe Firefly is that it comes with limitations and subscriptions, while Stable Diffusion is open-source.
Furthermore, the standardized Firefly interface allows users to quickly and efficiently navigate the platform. I will conclude my Adobe Firefly vs Stable Diffusion comparison by highlighting that you can run Stable Diffusion in different (potentially paid) online interfaces.
Feel free to share your opinions and tips in the comments below!