AdDuplex has released their monthly stats based on their cross-promotional Windows Phone ad network.
This month there has not been any massive changes, but there is on-going signs of good performance by Microsoft's low-end handsets, in particular the Lumia 530, 535 and 630/635. It is however unlikely that any of these handsets have broken the 10 million unit sale numbers yet like the 520 did.
Some handsets do better in some countries than others however, with the Lumia 535 appearing a massive hit in India, growing from less than 5% of the market in December 2014 to 9.1% in January 2015 and now 15% in February 2015.
In UK on the other hand the Lumia 630/635 is doing well and together now make up 24.4% of the market, finally outnumbering the Lumia 520 with 20.1% of the market.
In US the Lumia 635 is also doing well, gaining 4.9% share since last month. AdDuplex notes that there are now more low-end 2014 Windows Phone 8 handsets (Lumia 630/635, 530) than low-end 2013 Lumias (520/21).
Microsoft Mobile/Nokia continue to dominate the OEM picture, now with 96% of the installed base, but Other (ie the new Windows Reference Device OEMs) have grown from 0.26 to 0.35% of the market, and seems set to soon over take Huawei and even Samsung. It seems however (assuming around 70 million windows phones in the market) they have still sold less than 1/4 million handsets all combined.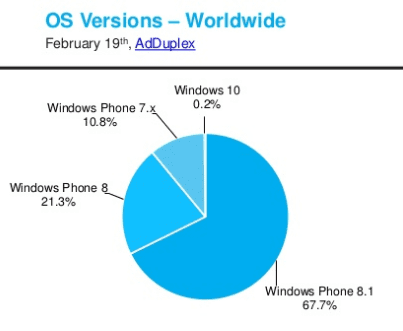 AdDuplex notes that Windows Phone 8.1 handsets are now more than 2/3 of the market, but that the rate of growth appears to suggest new sales rather than upgrades, suggesting some work still needs to be done to reach out to the 21.3% of the users still using the older version of the OS. Interestingly 0.2% of Windows Phone users are already trying out Windows 10, which is a massive number.
Regarding new devices, AdDuplex notes:
Unreleased phones February 19th, AdDuplex Mobile World Congress is just around the corner and there's a lot of speculation of what phones Microsoft may announce or launch there. Here's what we see in our stats:

Microsoft/Nokia RM-1031 – 480×800, 4″. Seen all over the place so must be close to launch. Interestingly searching for this model number online returns matches for Nokia XL (short-lived Android phone)
Microsoft/Nokia RM-1062, 63 (AT&T), 64, 65, 66, 67 – 720×1280, 5.7″. We've covered these before, but now we see quite a lot of them (including one version on AT&T in US). So that would probably be another MWC announcement.
Microsoft/Nokia RM-1072, 73 (AT&T), 74, 75, 76, 77 – 720×1280, 5″. Another phone we've covered before and again seen all over the place. Expect soon.
Microsoft RM-1109, RM-1113 – 720×1280, 5″. Just a few sightings in Brazil (1109) and in Asia (1113). Could be the same phone as RM-1072 or a specialized variant of it.
Microsoft/Nokia RM-1099 – 480×800, 4"

Unfortunately we haven't seen anything new from either HTC, Samsung or LG, so we shouldn't expect any new Windows Phones from them in the MWC timeframe. www.adduplex.com
The RM-1062, 63 (AT&T), 64, 65, 66, 67  are of course the leaked Lumia 1330, while the RM-1072, 73 (AT&T), 74, 75, 76, 77  is believed to be a lower-specced Lumia 830. The RM-1099 is believed to be the new 3 megapixel windows phone which will slot above the Lumia 435.
See the full report embedded below