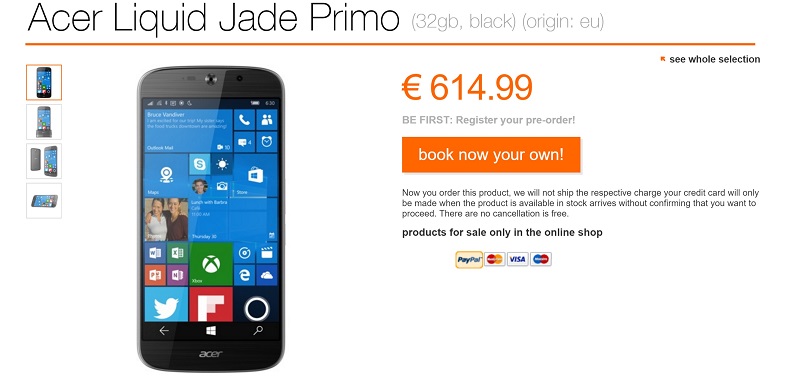 The Acer Jade Primo is likely the only other high-end Windows 10 Mobile handset which will see wide distribution besides Microsoft's own flagship handsets.
I did not however expect to see it turn up for sale at carrier stores, but it appears that will be one of the first places the smartphone will be offered.
Orange Portugal is now listing the smartphone for pre-order.  No date is given, but the price for the handset is, and it unfortunately does not make the Acer the more affordable flagship option we have been hoping for.
Orange is listing the handset for 614.99 Euro (£470, $670) which is actually more expensive than the Lumia 950 XL.
For that price you get Acer's curved design language, a Gorilla Glass 2.5D screen, a 5.5-inch Full HD AMOLED display with 100 percent of the NTSC color gamut, with 10000: 1 contrast and 176-degree wide-viewing angles, a hexa-core Qualcomm® Snapdragon ™ processor 808, along with 3GB RAM and 32GB of internal memory, LTE Cat. 6 and 802.11ac MIMO connectivity, a 21MP f / 2.2 autofocus rear camera with dual LED flash and supports up to 4K (3840 x 2160) video recording and an 8MP f / 2.2 front-facing camera with a wide-angle of up to 84-degrees, while supporting up to Full HD 1080p video recording.
The handset of course also supports Continuum for phones via its USB-type C connector, but there is no mention if these accessories will be bundled or not.
Despite the high price, being distributed by a carrier likely gives the handset its best chance of competing against Microsoft's offerings, and in the interest of having a more vibrant Windows phone ecosystem we wish Acer well.
The listing can be seen here.