By far the biggest complaint of any smartphone owner is battery life, with recent surveys suggesting it is the biggest factor when choosing which phone to buy these days.
While there are many ways of optimising battery life, another solution is simply to carry a stonkingly huge portable battery with you.
That is exactly what the Lumsing Power Bank offers.  The portable battery is only 5.43 x 2.35 x0.86 inches and only weighs 8.35 ounces (240g).
Looking more like a small USB hub than a massive battery, the device offers up to 5 times the capacity of your average smartphone battery, and promises at least 2-3 full recharges of the same.
It features a 4 light LED, showing charging level, 2 USB ports offering 1 A and 2.1 A charging (essential for when our Windows Phones develop that GPS bug), a power button, and charges via microUSB.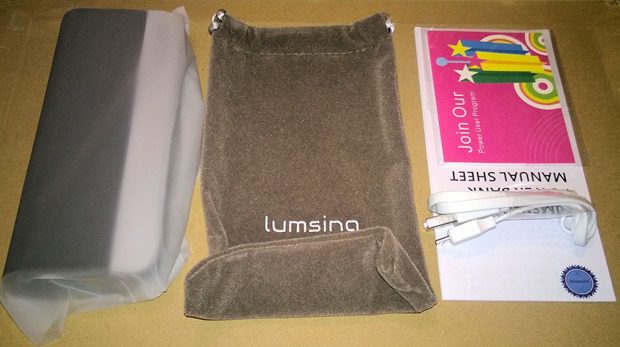 An included ribbon cable featuring microUSB on one and and full-size USB on the other will double for both charging your phone and charging the Power bank.
The packaging includes an attractive slip case for protecting the glossy device in your case or bag, but does not include a wall charger.
We will be putting the device through its paces over the next week, seeing how long we can go with a fully charged Power Bank and phone without plugging into a wall outlet.
In the mean time, the device can be ordered from Amazon UK for £17.99 and Amazon US here for only $19.99 on sale. Grab it while stock lasts.