Microsoft celebrated the first anniversary of Windows 10 just last week. According to the software giant, Windows 10 is on more than 350 million devices but that's a pretty old number (announced in June). Now, according to the latest report from Net Market Share, Windows 10 now claims more than 21% of market share, which is pretty great. For comparison, Windows 7 is claiming 47.01% of the market, while Windows 8.1 claims 7.8% and OS X claims only 4.69%.
Back in June, Windows claimed 19.14% of the market, which means the OS gained nearly 2% of the market in one month — according to the data from Net Market Share, that is.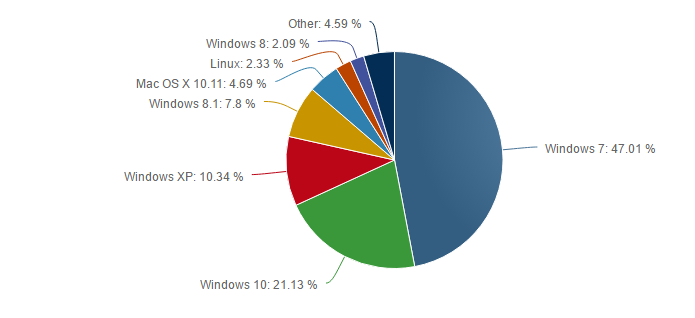 From now on, Windows 10's growth will likely slow down slightly as Microsoft has ended the free upgrade offer last week. Most businesses are yet to upgrade to Windows 10, so the OS might see a significant growth later in the year.
Microsoft is yet to reveal how many devices are running Windows 10 after July 29th, but we'll likely know about that sometime soon. The company is currently getting ready to release the first major update for Windows 10, which is being rolled out starting tomorrow to all Windows 10 PCs and Mobile devices for free.