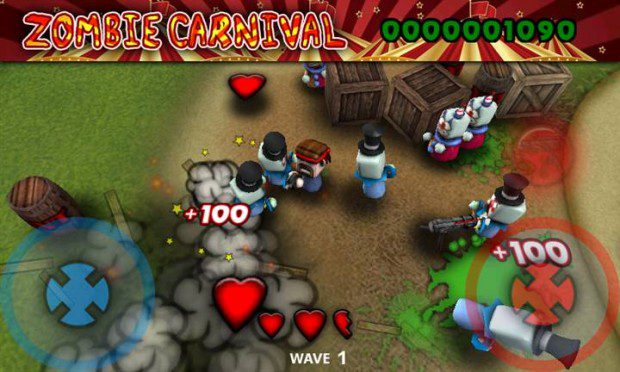 Even with the Windows Phone 8 release around the corner, Indie developers are pushing their creations on Windows Phone 7.5 platform devices. Zombie Carnival is a quality game with great graphics and good game play that's worth checking out.
Game Description:
Only you can stop the zombie clown horde! Zombie Carnival is a top-down, dual stick shooter with continuous mind-blowing action! Take control of Buck Ricardo as you blast your way around the carnival fairgrounds in full 3D. Watch zombie clowns detonate and fly everywhere, thanks to the power of a full 3D physics engine! Take the fight inside the tent for an incredible physics-based boss battle. Use your fingers to toss and fling the zombie clowns around, and smash them into the ground! Swap out different weapons and upload your score to the integrated leaderboards.

+Non-stop 3D physics with dual stick shooting action. How many waves can you survive?

+Blast the zombie clowns across the map using a variety of weapons and score multi-kill bonuses!

+Power up the Carnage Meter for an outrageous killing spree!

+Incredible art direction: amazing particle effects, soft shadows, ambient occlusion, and a day/night cycle take full advantage of the Windows Phone hardware.

+Destroy the zombie clown car while it drives around the fairgrounds!

+Epic, physics-based boss battles.

+Upload your score to the online leaderboard
Download it here from the Windows Phone Marketplace.
See a video after the break.


via:Â Mobility Digest