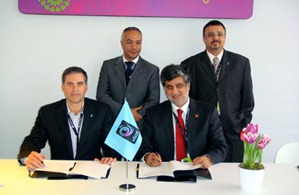 Zain Group,  a mobile telecommunications company with a commercial presence in 7 countries across Africa and the Middle East and about 37.6 million customers has agreed to distribute Windows Phones to the Middle East and North Africa (MENA) region.
The company plans to launch of Windows Phone later this year, targeting business and consumers across Zain's mobile operations in Bahrain, Iraq, Jordan, Kuwait, Saudi Arabia, Sudan and South Sudan.
Nabeel Bin Salamah, CEO of Zain Group, said, "The smartphone has become a necessary item in today's society, and this agreement with Microsoft, one of the world's leading technology companies, is just the beginning of yet another example of Zain delivering on its brand promise to achieve our vision of 'A Wonderful World'. We have the utmost confidence in the capabilities of Windows smartphone technology and believe such an appealing offering will further attract, empower and enhance the lifestyles of our customers."
Gustavo Fuchs, Microsoft Mobility Director, Middle East and Africa, noted "We are seeing huge smartphone growth in the region and this is expected to continue with a prediction of 38% year-on-year growth for 2012. The partnership with local mobile phone operators will help drive the appetite of consumers in the region."
"We are pleased to cement our long -term partnership with Zain, a company that has been with us since the first version of Windows Mobile was released, and has now embraced Windows Phone as a part of its portfolio. Zain's wide reach across Middle East and North Africa and its globally recognized distribution expertise will ensure consumers have access to the latest and greatest phones as soon as possible," Fuchs added.
Zain will start rolling out Windows Phones from a variety of OEMs to individual countries in their group later this year.
Via Ameinfo.com