Is Copilot the best AI companion out there? Help us find out by answering a couple of quick questions!
Looking for an in-depth YT Saver Video Downloader review? You're in luck, then. Below, I'll explain the features, functionality, and user experience of this popular video-downloading tool from my first-hand experience.
From its ease of use to compatibility with various platforms, I'll delve into all aspects of YT Saver to help you decide if it's the right tool for you. Let's get started!
Features
First things first! YT Saver Video Downloader is a desktop software for Windows and Mac that downloads videos and music from various platforms. You can also use the app on an Android smartphone or tablet.
It comes with a simple user interface (UI). All the buttons and links do exactly as the text says.
Whether you're a novice or an expert PC user, you'll easily navigate it as there's absolutely no learning curve for this application.
Now, let's get to know its major features:
High-Speed Video Downloads
Unlike many other similar apps, YT Saver doesn't limit the downloading speed.
With it, I've achieved a 9.40 MB/s video downloading speed. I downloaded a 4.1 GB video from YouTube in just 7 minutes. Also, the tool is able to download videos in 4K and 8K resolutions for the best offline viewing experience on large-screen TVs.
Playlist and Channel Download
YT Saver also allows you to download playlists or whole channels.
However, this feature is linked to the bulk YouTube video downloading function and isn't available in the free trial. You must buy a monthly subscription or lifetime license to download whole playlists.
Paste URL
Other video downloaders often complicate the download process. Contrarily, YT Saver makes it really simple.
All you need to do is open the YouTube playlist or video you want to save. Then, copy its URL from the web browser's address bar. Go to the YT Saver app's Downloading tab. If you copied the right hyperlink, the toll will start the download automatically. Or, you can click the Paste URL button to manually paste the source hyperlink.
Video Conversions
YT Saver Video Downloader also comes with a comprehensive video-to-video and video-to-audio conversion utility. Therefore, if you need to convert videos into iPhone or Android-compatible formats, you don't need to buy a video converter separately.
You can also convert downloaded multimedia from YouTube to MP3, WAV, and other formats for portable music players.
Downloaded Content History
If you're sharing the app with someone, you might need to monitor your download history. This also comes in handy if you're downloading videos in bulk and need to log everything. YT Saver's history tab has two sub tabs: All and Private.
Online Portals
YT Saver's Online tab gives you access to 14 pre-configured video-sharing platforms directly from the app. You can directly browse for content on Twitch, YouTube, Vimeo, and more. It also allows you to cut and download small portions of videos which is convenient when creating review or reference videos.
That's not all:
You can also add more video-sharing platforms with the Add New card in the Online tab.
Extract and Backup Audio
Suppose, you like to listen to your favorite online TV shows and podcasts at work or home but are unable to play video. YT Saver saves the day by offering quick audio extraction from YouTube, Spotify, Dailymotion, Twitch, and other sites. Its audio extraction tool supports 64-320 Kbps.
Video Quality Settings and Internet Settings
The YT Saver app also comes with an elaborate settings section. If you're a developer or expert creator, you'll definitely need to make changes to the content quality, conversion queues, audio or video switching, and internet download speeds.
For example, I often need to use the following settings in YT Saver: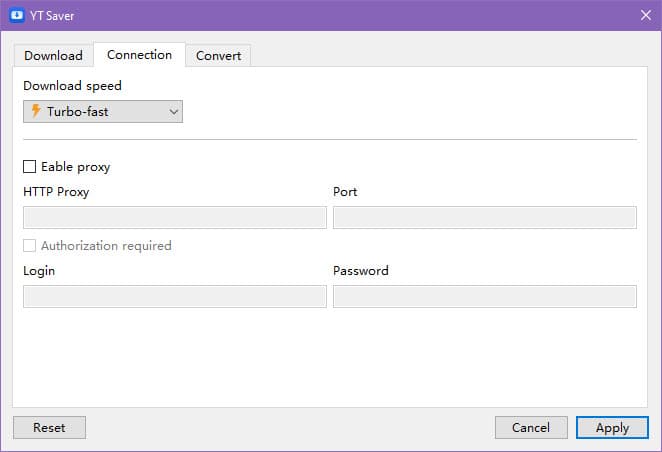 Switching the download option from video to audio
Changing video or audio file quality
Downloading only the preferred subtitle language
Limiting internet download speed from 128 KBps to 8 MBps or switching to Turbo-fast
Using HTTP proxy servers for additional security.
YT Saver Video Downloader Installation
Wondering how to install this app? It's a fairly simple process:
Download the super lightweight installer in seconds from YT Saver's official website.
Go to Downloads and double-click on the file.
Click Install.
Allow the tool to install itself.
Now, click the Start Now button.
The app is fully clean and only installs YT Saver. Unlike its competitors, it doesn't bring along any potentially unwanted programs during the installation process.
Also read: 5 Best OnlyFans Video Downloader To Watch Offline
YT Saver Supported Formats
Supported input and output files and container formats are major indicators of how good a YouTube downloading app is. YT Saver fares well in this area. Check out for yourself:
Supported Input Formats
| Video Formats | Audio Formats |
| --- | --- |
| MP4, M4V, 3GP, MPEG | AAC, AC3, FLAC |
| DAT, AVI, ASF, WMV | M4A, WAV, WMA |
| VOB, MKV, FLV, 3GS | AMR, MKA, MP2 |
| 3G2, F4V, WEBM, TS | AIF, AU, AIFF |
| RMVB, MOV | CAF, OGG, RAM |
| | RA, M4B, M4R, APE |
| | OPUS, WEBM |
Supported Output Formats
Video Formats
Devices
Audio Formats
MP4, MOV, WMV, AVI
iPhone/iPod, iPad
M4A, MKA, WAV
FLV, MKV, HEVC MP4
Android Phone,
AAC, FLAC, AIFF, OGG
HEVC MKV, 3GP
Android Tablets
How To Download Videos With YT Saver
Here's how to download videos with YT Saver like a pro:
Find the YouTube video you want to download.
Copy the link from the address bar.
Go to the YT Saver app.
Click the Downloading tab.
Click the Paste URL button.
If you're using the Free Trial version, confirm you want to continue.
YT Saver will instantly add the YouTube video to its list and start downloading.
Once it's done, go to the Downloaded tab to find it.
You can click the Play button to watch the video on VLC Media Player.
Alternatively, you can click the Show the File button to go to the directory where you saved it.
Also read: 6 Free & Fast Methods to Download OnlyFans Videos
Pricing
The free version of YT Saver comes with the following limitations:
3 downloads per PC
Download only 1 playlist
Trial conversions are limited to 1/3rd part of the video
Batch download not available
1-click download and conversion not available.
So, if you want to unlock the full potential of YT Saver, you must subscribe or buy a lifetime license.
Here's a summary table of various pricing plans for YT Saver Video Downloader:
| Platform | Subscription Plan | Price (Before Taxes) |
| --- | --- | --- |
| Windows | 1-Month Plan | $9.95 |
| Windows | 1-Year Plan | $19.95 |
| Windows | Lifetime Plan | $29.95 |
| Windows | Family Plan | $39.95 |
| Mac | 1-Month Plan | $12.95 |
| Mac | 1-Year Plan | $25.95 |
| Mac | Lifetime Plan | $35.95 |
| Mac | Family Plan | $45.95 |
| Android | 3-Month Plan | $9.95 |
| Android | 1-Year Plan | $19.95 |
| Android | Lifetime Plan | $29.95 |
| Android | Family Plan | $39.95 |
It also offers a 30-day refund policy should you face any technical issue that the support team can't fix.
YT Saver Video Downloader Review – Verdict
YT Saver offers me all the features and functionalities I need as a content creator and music enthusiast.
So, I believe the tool will be equally useful for you if you need to download various videos from the internet, get content ideas, and watch or listen to offline multimedia. Also, YT Saver is highly suited for businesses, social media marketing agencies, and digital marketing teams.
Best of all, unlike many similar apps, it's completely safe. The only downside is that the free trial version is so limited. So, if you want to truly simplify downloading videos in batches, you'll have to subscribe.
FAQs
Is YT Saver Video Downloader Safe?
Yes, the YT Saver app is completely safe to download, install, and use. I've scanned it with three different third-party antivirus software as well as Windows Security and none of them flagged it.
Also, it doesn't install unsolicited apps when you set it up. Moreover, the app uses HTTPS encryption to transmit data from and to your device using its secure servers.
Does YT Saver Video Downloader Have an App for Android?
Yes, it has an Android app. However, you must download the app from YT Saver's official website. It's not available on Google Play.
Is It Legal To Download Videos With YT Saver?
Yes, it's legal to download such content on your personal device. YT Saver Video Downloader is merely a tool to download videos from various online sources.
However, how you use the video is important. For example, if you download a YouTube video and sell it making CD or DVD copies, it's illegal. Also, if you upload the content to another site, you'll violate copyright laws.
For more details about the app, read the rest of my YT Saver Video Downloader review.