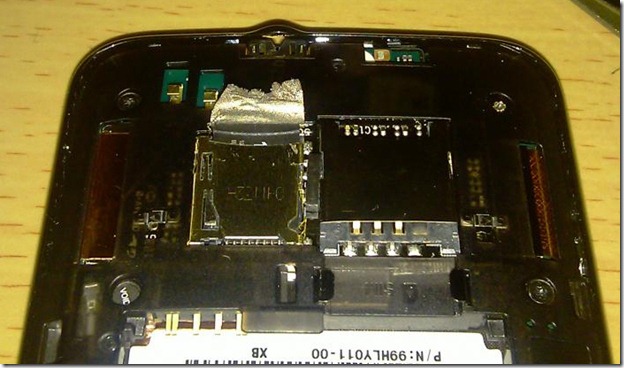 the::unwired have uncovered the memory card slot on their pre-production  HTC HD7, but of course XDA- Developers usually take things a bit further.
XDA member derekcranson managed to pry the cover off on a retail device and writes how:
To replace the battery half of the back of the case comes off.
Very gently the other half of the back of the case will come off the same way. Next to the sim card slot there is a micro sd card slot, with the card in it. However to remove the card it looks like all the screws will have to come out and then the plastic cover removed as the slot is set in it.

If you take off the cover to access the battery you can see 8 of the 10 screws that have to be removed. The other 2 are under the smaller back cover. The sd card is in a normal sd card slot with a bit of tape over the end. take the card out like you would a card from any other phone (i.e. push down and it pops up). one of the screws has a void sticker on it

Hard reset formats the card so that the phone recognises it and zune also sees it and shows used and empty space.
tim661 confirms it works with 32 GB cards:
Ok, I have now replaced the class 4 16GB card, with a class 2 32gb card. Hard reset and everything works fine. Storage now shows 29GB. I haven't noticed any significant performance issues. It was really easy to do.
Note one of the screws is covered by the warranty void sticker, so users may want to consider trying to cope with what they have first.
Thanks Chris for the tip.