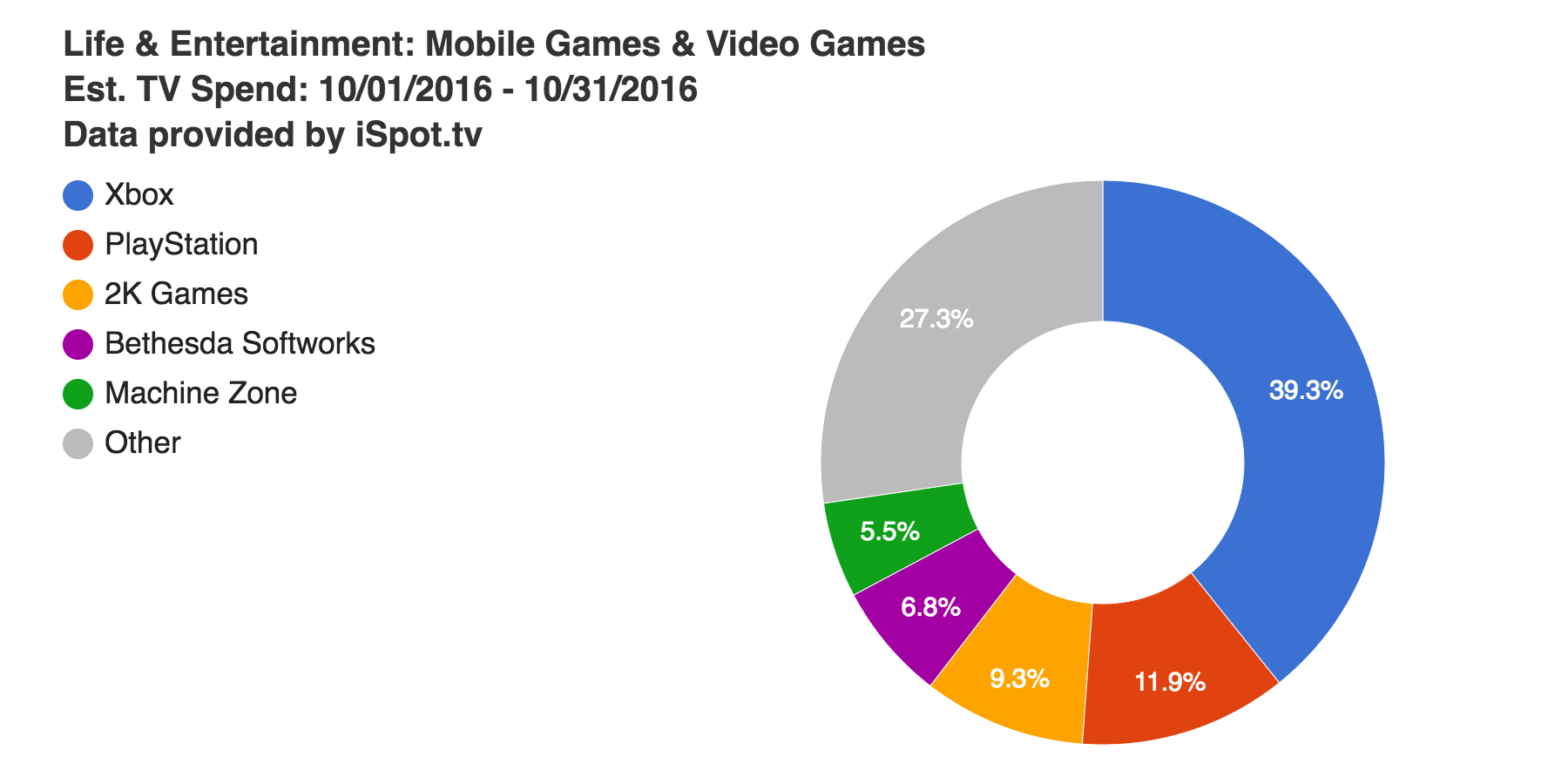 Microsoft's Xbox gaming console has been experiencing a recent upsurge in popularity, beating out Sony's Playstation 4 multiple times, in both the US and the UK (while maybe not so much in Japan). Many may attribute this to the many deals from different retailers, many past and some still to come, like this great deal from Dell for Black Friday. While these deals surely have something to do with the consoles increased sales, according to GamesBeat and iSpot.tv, which measures TV advertising in real-time, Xbox spent almost 40% of the top five spending gaming industry brands for the month of October.
Xbox came in first place at 39.3%, spending $39.9 million spent on 16 commercials that ran 4,118 times. The top networks that its ads ran on were NBC, Fox, and ESPN, with the top shows being NFL football, College Football, South Park. The company's top ad was 'Gears of War 4: Launch', but remember, this is only for the month of October. Following Xbox is rival Sony, who comes in a distant 2nd place with only 11.9%, which equates to an estimated $12.1 million spent on 11 commercials that ran 1,612 times. Playstation's top ad was for Star Wars: Battlefront Rogue One — X-Wing VR Mission. Closing out the list is 2K Games with 9.3%, Bathesda Softworks with 6.8%, and then Machine Zone with 5.5% (the company behind the Mobile Strike: Convoy commercial featuring Arnold Schwarzenegger). The others category trumped every brand besides Xbox, with 27.3%, or $27.7 million spent on advertising.
With the holiday season upon us, there's no reason to think that Microsoft's TV ad spending for its console will decrease at all, but it may see some strong opposition when Sony releases its PS4 Pro. You can check out all of the numbers on the brands here.