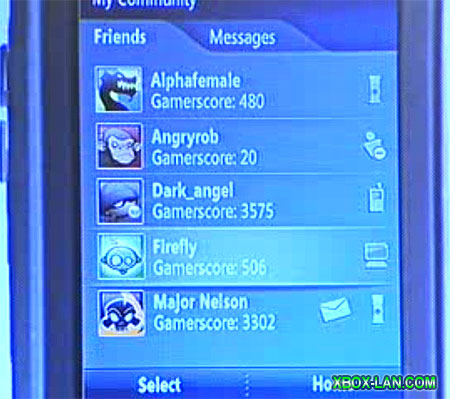 The single biggest reason I bought a Windows Phone was because of its Xbox Live feature. I'm not saying that there were no other reasons I chose to adopt Microsoft's newest mobile operating system. I am a long time user of Zune and happy to live in Microsoft's ecosystem, but the single most important reason was to make my Xbox mobile. There are many reasons for that. Until 2001 I was mainly a PC gamer playing games like Counter Strike and a multitude of RTS titles. Halo changed all of that. It was the first shooter that made a gamepad work, and while mice will always be more accurate, dual joystick gameplay is now as natural to millions of gamers as a mouse. This game locked me into Microsoft's gaming ecosystem, and Live solidified that relationship. From the early days of Halo 2 (God rest its soul) to the additions of parties on Xbox 360, Live has pushed multiplayer online gaming forward.
Live Anywhere was announced by Bill Gates in 2006 and while the PC version of Xbox Live came out relatively quickly as Games for Windows Live, Live Anywhere on mobile devices was nowhere to be seen. Though Bill Gates promised the feature in 2006 to appear on even feature phones, Live as a mobile experience did not appear until Windows Phone 7 came out in late 2010. It was announced with great fanfare and promise, but how well has Microsoft delivered Live Anywhere? Firstly, we now have an Xbox live experience on our phone. Messages can be sent and received over Xbox Live from our phones. Our achievements can be obsessed over on our mobile devices and editing one's avatar is also mobile. In the first three months Xbox Live on WP7 has received some excellent exclusive titles, including such outstanding games as Project Sunburst (with some reservations) and The Harvest. Microsoft has also been very good about getting publishers to bring a large part of their iPhone catalogs over to Windows Phone very quickly since launch. However, some key points of Xbox Live have not yet been realized on the Windows Phone platform.
Multiplayer. This single word is what Xbox Live means for millions of gamers. No gaming platform (though I'm biased it's still true) has as comprehensive a multiplayer gaming experience as Xbox Live on the Xbox 360. Cross game chat, parties, true skill matchmaking and many more features set Xbox gaming apart from its competitors. And these same attributes of the experience are the ones missing from the implementation on Windows Phone. While announced as in the pipeline for Windows Phone, multiplayer is absent at this point from Windows Phone. This is a major missing piece of the WP7 puzzle and Steve's silence at his keynote at both CES and WMC worries me greatly. I understand not implementing multiplayer functionality immediately, since it is obvious that Windows Phone is very much a v1 product right now. But by the time Mango ships later this year multiplayer over Live should be among its additions. Perhaps Microsoft doesn't see true Xbox Live as important as IE9 and multitasking; hopefully it only meant that they were not ready to show this functionality yet. Whatever the reason, real time multiplayer gaming is an addition that Windows Phone cannot live without. But the integration with Xbox 360 could be much deeper.
At WMC Microsoft showed off a tech demo of WP7 running alongside the Xbox 360. I won't go into detail because I know all of you have seen it. These kinds of integrations with the console can set the Microsoft gaming ecosystem apart from Sony's or Nintendo's. And I know I can't be the only one that would like to join parties and talking to their friends over Xbox live while using their phone. And I will cry real tears of joy the day Halo is available on Windows Phone. Please prove me wrong Microsoft and get real multiplayer out on Windows Phone before the end of the year. And perhaps you could throw us a few surprises; things we weren't even expecting.
BTW: you can tell the picture above is old because Major Nelson has just
above 3000 Gamerscore.