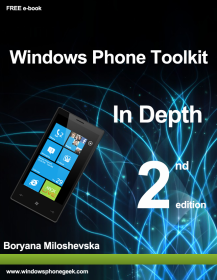 The second version of the popular FREE e-book "Windows Phone Toolkit In Depth" is now available for download. The book covers all controls from the latest release of the toolkit Nov `11 with detailed examples and full source code!
250 Pages
Publish Date: 15 Dec 2011
Includes all controls from the Windows Phone Toolkit Nov 2011!
22 Chapters!
Full Source Code
Based on Windows Phone 7.1 (aka 7.5) Mango!
Here is the link to the book:
The book is free, but a donation is appreciated, and can be found here.
About the Author
Boryana Miloshevska is a software developer with more than 6 years of professional experience with .NET technologies. She is a co-founder of www.windowsphonegeek.com and is also working as a consultant in the areas of Silverlight and Windows Phone application development.

About WindowsPhoneGeek.com
WindowsPhoneGeek.com is the leading Windows Phone Development community web site that offers high quality development articles, tutorials, source code, examples, tips, resources, demo videos, latest development news and more.