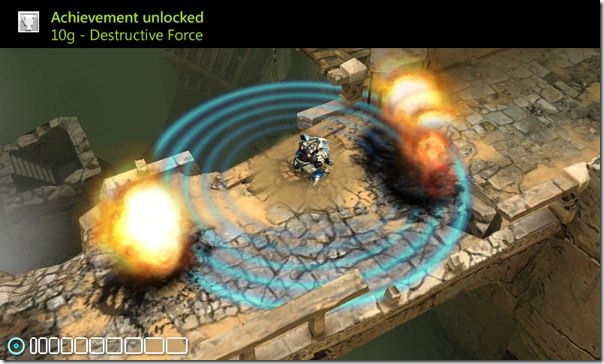 Engadget has been lucky enough to be shown 2 early 3D Windows Phone 7 games created in XNA Game Studio 4.
More after the break.
The first is The Harvest, shown above, which is a "dungeon crawler" with destructible environments,by Luma Arcade.  The software was built in only 2-3 weeks.
The screen shot above also shows an notification, in this case an achievement being unlocked, which simply slid in and out of view without any capability to interact with it.
The other is Battle Punks, a one-on-one sword fighting Facebook game by Gravity Bear.
Development is based on DirectX, and currently developers can test on the desktop, with emulators coming soon.
Microsoft has signed up game studios Oberon, Sega, Glu, EA, Popcap, Hudson Entertainment, Namco, Konami.
Below is a closer view of the video demo we saw earlier.
See more screenshots at Engadget here.
Thanks MobilePaddy for the tip.