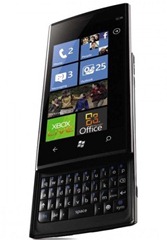 Neatly bookending the last article, which was about analyst pessimism about Windows phone 7,  Rodman & Renshaw analyst Ashok Kumar this morning asserted in a research note that RIM's future fortunes may be under significant pressure in the future, due to increasing enterprise competition from Android, iPhone and also Windows phone 7.
"RIMM faces significant headwinds in 2011," he wrote, including the expected introduction of the iPhone on Verizon Wireless early in the year. "Further out, gains by Windows Phone 7 in the enterprise will be at the expense of RIM. New offerings from the Android camp and Nokia will also compound RIM problems. Over time we expect RIM to cede significant share in North America, a geography that contributes to over half of sales."
While Microsoft has earlier mainly pushed Windows phone 7 as a consumer OS, the company has, with Dell as a partner, made a significant push into the enterprise market, with Dell pledging to replace all its own Blackberries with Windows Phone 7 handsets, and also promoting its own Dell Venue Pro solution to its enterprise clients.
Read more at Forbes here.