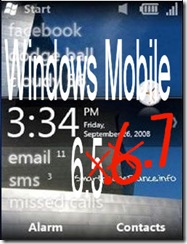 As Windows Mobile 6.5 is entering the final stretch of bug-fixing before being released to OEM's for incorporating into devices for Q3 2009 release, it has become increasingly clear that all the demands for a complete reworking of the UI to make it more consumer-friendly will never be met on time.
It has also become very clear that Windows Mobile 6.5 will not be the last Windows Mobile 6.X release, with many important fixes being put of for the next release of Windows Mobile, and that does not mean Windows Mobile 7.
Of course this does not necessarily mean there will be a Windows Mobile 6.6 – it could merely mean Windows Mobile 6.5 with progressively more Adaptation Kits (like service packs) added on.
What has made the Windows Mobile team so confident that they can push updated rapidly to end users even after the release of Windows Mobile 6.5 has been the success of FOTA (Firmware Over The Air) trials, which should mean a more up to date experience for even more Windows Mobile users.
I'll throw this one in just for Edward from MSMobiles – Have no fear, multi-touch with pinch zooming, multi-finger scrolling and other gestures is being developed for Windows Mobile 7 after all, and being tested on devices with capacitive screens 😉