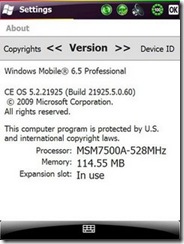 Pocketnow has published this video of the latest build of Windows Mobile 6.5 showing the more finger-friendly tabs.
Renowned ROM hacker l3v5y claims this version, called Windows Mobile 6.5.1 will be released in January 2010, with the Samsung Jackie being the first device to get it.
WM6.5.1 is set to bring huge change in the UI from current builds, with more finger friendly versions of everything, and even new controls.Other changes in 6.5.1 include OS based AGPS, using Microsoft's servers rather than the carrier ones. According to l3v5y WM6.5.1 is also being built on CE5.2 and CE6, so may need new bootloaders.
The latest builds from Da_G and others (21925 and 21928) include some of the new UI components and rumoured AT&T version of The HTC Touch Pro 2 and Touch Diamond 2 will also get updates to WM6.5.1.
One striking thing about the video is how attractive most of the interface is, until one gets to the actual setting screens. Again I hope Microsoft is able to finish the job to ensure a very important smooth and consistent user experience.