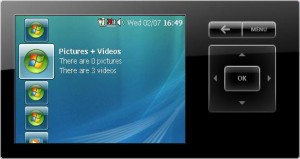 Microsoft has released a beta version of a Windows Media Centre Sideshow gadget for Windows Mobile. The software, which runs in the Sideshow environment which was recently brought to the Windows Mobile platform by Microsoft, allows for the remote control of Vista Windows Media Centres and provides the following functionality:
TV:
Browse TV and schedule recordings. Browse the TV program guide, view metadata on upcoming or current shows, and pick shows to watch and record (single showing or series), without interrupting the TV viewing experience. Recorded TV. Select a previously recorded program to play back, without interrupting the viewing experience on the TV.
Music:
Play Music. Browse the media library, control music playback on the PC by using the remote control device instead of the primary display, such as a TV. Play radio presets. Browse your radio presets and playback that station through your Media Center.
Pictures + Videos:
Browse the picture and video libraries. Make a selection on the remote and that picture or video will be displayed on the TV.
Now Playing:
Provide "now playing" information. The remote control device shows information about the currently playing medium, such as the track title or the time elapsed.
The software is still beta and only available to Connect members. Read more at the
Media Center Blog