There are a variety of reasons some PCs are not on the latest version of Windows 10. In general, it is often due to them being used in an enterprise setting where a stable configuration is desired, or less likely a domestic user may have used one of the various techniques to frustrate the automatic update process.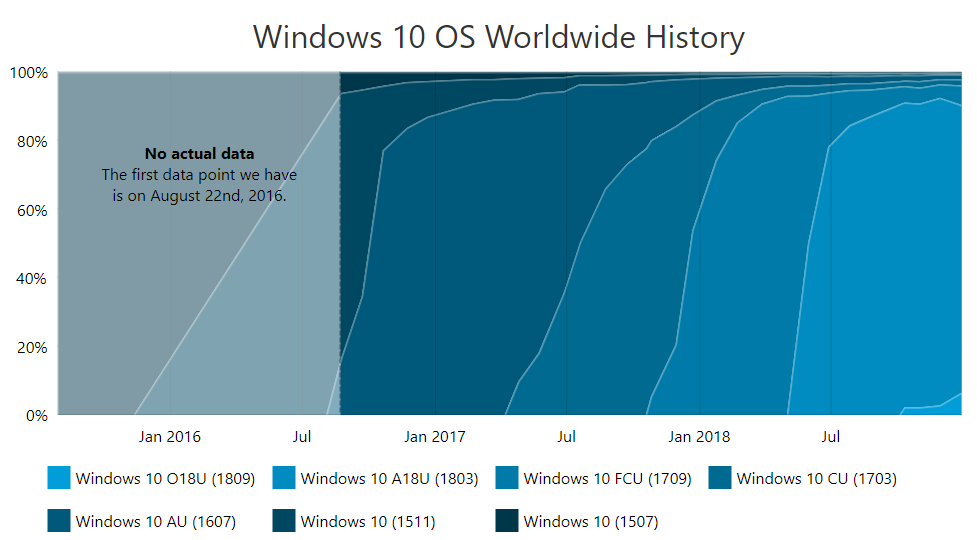 Either way, as can be seen by AdDuplex's recent data above, only 6% of users are currently on the October Update, and a bit more than 80% of the April 2018 update, leaving a significant portion on older and possible unsupported versions of Windows 10.
Now AskWoody.com reports that Microsoft may be readying a fresh push to move this recalcitrant segment to the latest version of Windows 10, after they noticed Microsoft updating the article for KB 4023814 on the 24th December 2018, which describes the notification for installing the latest version of Windows 10.
The Knowledge Base article notes:
"If you're currently running Windows 10 version 1507, version 1511, version 1607, version 1703 or version 1709, your computer detects the Windows 10 Update Assistant automatically. Then, you can expect to receive a notification that states that your device must have the latest security updates installed and then initiates an attempt to update your device."
Microsoft has been accused of using "Dark Patterns" in these update notifications and the Windows 10 Upgrade Assistant which makes it difficult for most users to realize that they can turn down the offer or what exactly they are agreeing to.  Others have expressed concern about being moved to the Windows 10 October 2018 Update, after a number of high profile data loss issues.
The Windows 10 October 2018 Update has now however been extensive testing over the period of several months, likely making it one of the safest versions to make a move to at present, and it is probably better to move to the October Update now than deal with the bigger jump to a less thoroughly tested 19H1 Update in April next year.
Do our readers agree? Let us know below.
Via Softpedia.com