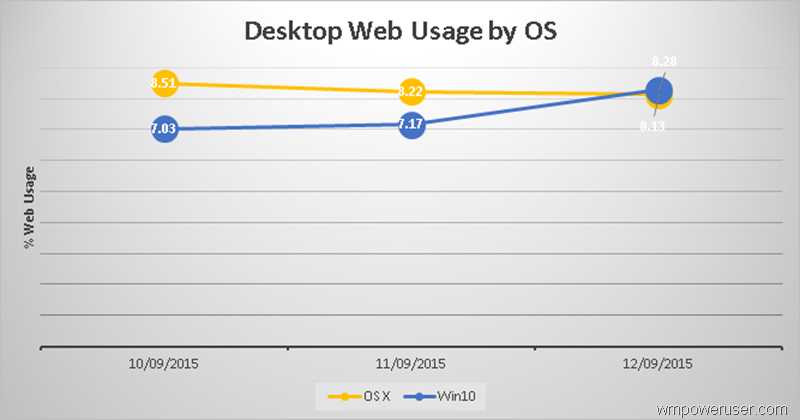 It took somewhat longer than expected, but the amount desktop Windows 10 users use the web has finally exceeded the amount all of OSX users did this Saturday, with 8.28% vs 8.13%, according to Statcounter.
This number of course follows on Microsoft themselves confirming that there are more than 75 million Windows 10 users in the wild, more than the generally accepted 70 million Mac users.
Windows 10 of course took only around 6 weeks from the 29th July to overtake OSX, and based on how the numbers vary over the week this is largely due to enthusiast home users upgrading their devices, rather than those at work, as the number tends to fall off during the week and increase on weekends.
Windows 10 was of course always expected to overtake OSX on the way to Microsoft's 1 billion installs in 3 years target, and will get a big boost when Windows 10 comes pre-installed on new PCs this holiday season, but the news is significant given that both OSX and Windows 10 run app stores, and developers can now consider then at least equal in number of users and in terms of distribution and reach.
Have our readers upgraded to Windows 10 yet? If not what are you waiting for? Let us know below.