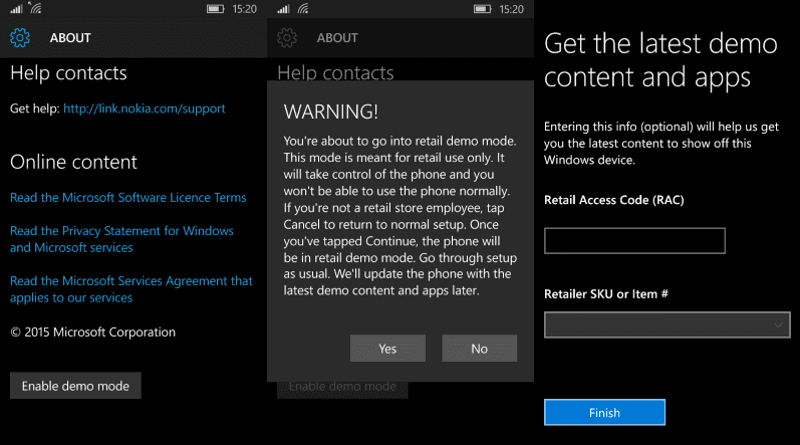 Windows 10 Mobile has a new, and secret retail demo mode. The demo mode can be easily enabled, but it doesn't bring any new feature or improvements, however. Nonetheless, if you want to enable the Retail Demo mode, here's how to do it:
Open the Settings app and navigate to System
Scroll down on the System page and open the About page
After that, find the Device and Information header and tap on it five times
Scroll down and you'll now see a button that lets you Enable Demo Mode
Clicking on the button will warn you that the retail demo mode is only for retail use.
If you want to proceed, just tap Yes and you'll get navigated to page where it asks you to enter retail codes
Just tap Finish and wait for the device to restart
After restarting, your device will be in retail mode.
The Retail Demo mode isn't finished yet, and it doesn't improve or add any new features. However, one weird thing that I've noticed is that the Get Started app opens up automatically once in a while — even if the device is locked.
[gallerify]
[/gallerify]
---
If you want to go back to the "normal" mode, just open the Settings app, and navigate to System>About — after that, tap on Device and Information five times and you'll see a button at the bottom which lets you reset retail demo phone. After clicking on the reset retail mode, the OS will clean your data and reset the device.
This is obviously for retail use, and it'll likely be enabled on demo units on retail stores. Nonetheless, tell us what you think of the Retail Demo mode in the comment section below.