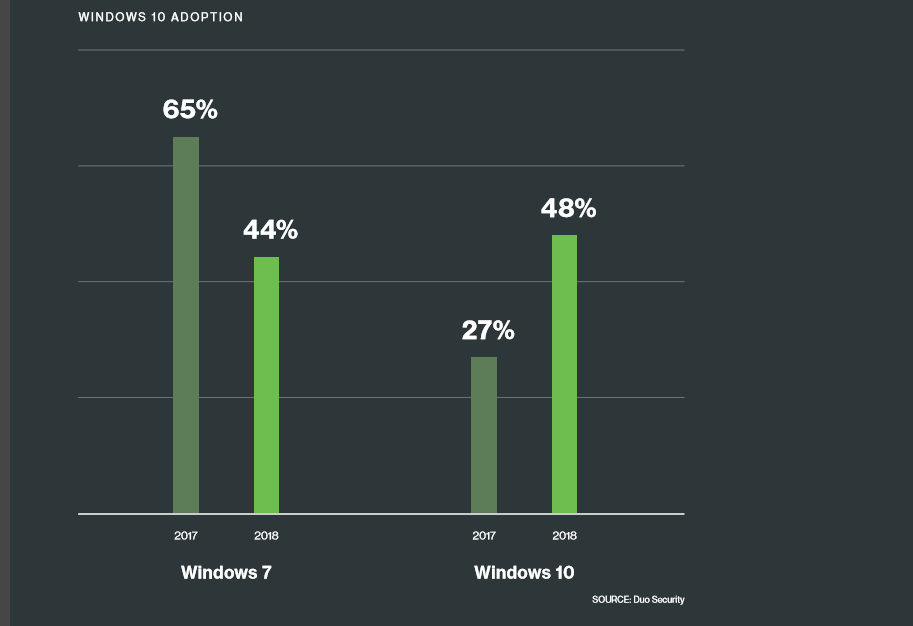 According to the latest Trusted Access Report by Duo Security, Windows 10 adoption among the enterprise saw a huge growth. Windows 10 adoption increased from 27 percent in 2017 to 48 percent in 2018. In the meantime, devices running Windows 7 decreased from 65 percent last year to 44 percent in this year.
Healthcare, transportation and storage, and insurance industries were the slowest to adopt Windows 10 while computer and electronics, wholesale and distribution, and non-profit industries were the quickest.
Organizations are moving to Windows 10 mainly because of the advanced security features which helps them during attacks like WannaCry ransomware.
This report also indicated that there is a slight drop in Windows users overall in the enterprise, not so good news for Microsoft. With more users authenticating into enterprise applications via mobile Apple devices, this shows a trend in the increasingly mobile enterprise user, accessing work applications remotely.
Source: Duo Security