Windows Ink is a great new feature coming with the Windows 10 Anniversary Update today. If you have a Windows 10 tablet like the Surface devices, you are gonna love Windows Ink in the Anniversary Update.
In the Windows 10 Anniversary Update, Windows Ink lets you sketch anything you want in the Sketchpad: you can draw random things or jot down some ideas about a design project you're working on. On devices like the Surface, the Windows Ink might actually feel like a real piece of paper. Microsoft has even included a virtual ruler that will allow you to draw straight lines without having to struggle at all, it's that simple: you just enable the ruler, line it up, and draw with your pen. That's it.
The Sketchpad also supports the Share feature on Windows 10, which will let you share your ideas with others using a Windows 10 app like Twitter or you can just simply email it to someone. Additionally, you can also set Cortana to remind you about the sketch, in case you want to add something at a later date.
Sketchpad might not be the most useful feature in Windows Ink, but the Screen Sketch feature is really useful. This feature is very similar to Sketchpad — but on Screen Sketch, you get to sketch over a screenshot which may sound pretty "meh" but it is really handy. For example, when you are working with a presentation with multiple users, you can easily sketch over a PowerPoint slide using Screen Sketch to share your own ideas and make changes very easily. Once again, Screen Sketch also comes with the Sharing feature, which makes sharing your ideas very easy.
Alongside Sketchpad and Screen Sketch, the Sticky Notes feature in Windows is also now part of Windows Ink with the Anniversary Update. With the latest update to Windows 10, Microsoft is revamping Screen Sketch, and adding some smart inking features to Sticky Notes. For example, Cortana is now integrated right into Sticky Notes which will let you set reminders very easily. For example, if you create a new Sticky Notes saying "send the email to Tom at 10am," Cortana will recognize that this is something you want to be reminded of, and it will let you easily set the reminder for this just by tapping on the highlighted area in the note. Unfortunately though, if you live outside of the US, Sticky Notes will still look very similar to the previous Sticky Notes, and there isn't any Cortana integration for users outside of the US.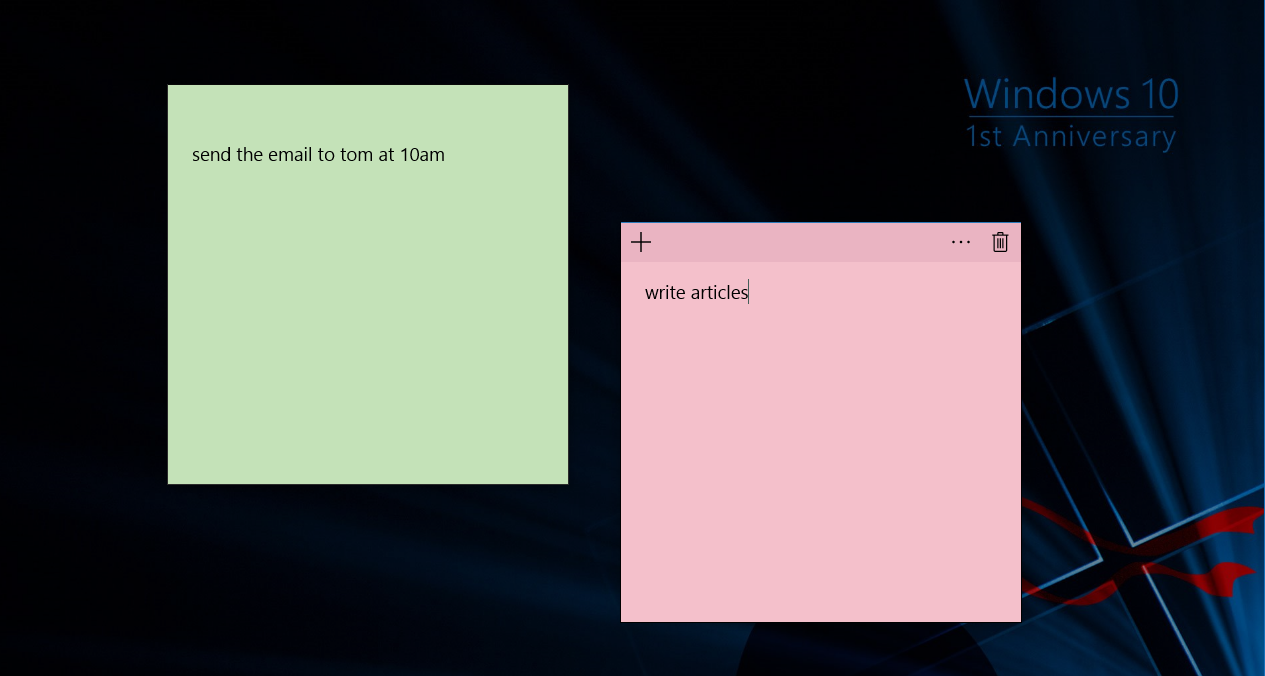 The great thing about Windows Ink is the fact that third-party developers can integrate this feature right into their apps very easily. For example, if you are a developer making a photo editor that includes some powerful features related to sketching, you can easily integrate Windows Ink into your app. The Windows Ink Workspace also includes a dedicated area for Windows Ink apps, which means users will be able to use your app that supports Windows Ink very easily.
With the Anniversary Update, Microsoft has also added Pen Shortcuts for Windows Ink which allows you to easily launch some parts of Windows Ink using your device's pen. For example, if you own a Surface Book, you can easily set the Surface Pen to open the Screen Sketch feature when you double-click the pen just by heading over to the Settings>Devices>Pen.
Windows Ink is still a very new feature in Windows 10, and Microsoft will be improving it with future updates. Keep in mind that this is one of the biggest features Microsoft is betting on with its Surface devices, and Windows Ink is a pretty good start.