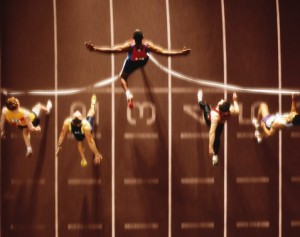 Why is Microsoft Not Winning the Smartphone War?
Microsoft, the personal computer juggernaut, has long dominated the computer industry with their Windows Operating System. Windows has managed to stay dominant and ward off both Apple and the countless versions of Lunix thus far. If Microsoft has been able to do this in the PC industry, why can't they win in the mobile industry?

It's personal
A mobile phone is much more personal than a PC. Microsoft's goal (and how they make money) is to have every person in the world own a PC.
The truth is, there are more phones than PCs in the world today. Because of the huge amount of mobile phones owned, it has given room for six contemporary smartphone operating systems:
Iphone OS
Blackberry OS
Android
WebOS
Windows Mobile
Symbian
Unlike in the desktop/laptop/netbook/nettop/whatever industry, the mobile industry is brimming with competition.
Faster Paced
Microsoft is familiar with releasing an updated version of Windows system roughly every 3-5 years. This differs from the mobile landscape where new smartphone OS are being developed in intervals as little as 6 months.
Take for instance the Iphone's OS. Each year a new version is debuted.
Android: 1.0 released in late 2008, was updated to 1.5 in early 2009
I could list more examples but it is clear that the industry is filled with constant evolution.
The PC industry evolves in steps. The mobile industry evolves up a hill (constant).

So will Windows Mobile Die?
No,
Windows mobile, or "Windows Phones" are here to stay. Because of the sheer size of the mobile industry there is room for 6 smartphone operating systems. For now, Microsoft is able to afford being 'late to the game'.
Windows Mobile needs revolution, not evolution
This is where Windows Mobile 7 comes in. Like Windows 7, WM7 it is the opportunity for Microsoft to 'get it right'. Microsoft is taking the correct path in my opinion, by having WM 6.5 and 7 out in the market at the same time. This way, they can attempt to compete in two different categories:
6.5:The all-in-one hardware/software experience (Apple, Palm, RIM's approach)
7: The general operating system for many different types of hardware (Google and Symbian's approach)
Who will become dominant?
If you are asking my opinion: undoubtedly Google's Android.
Android is constantly evolving at an alarming rate and it thrives off of 'the cloud'. Since cloud computing is surely moving mainstream I believe that Android will be the most commonly used smartphone OS.

How Could the others win?
Blackberry: is in a niche market for the business or text-happy consumer; failing to make real cutting-edge progress in multimedia consumption. They need to modify their OS for multimedia consumption and creation.
Iphone: is in too closed of an environment to allow innovation outside of Apple's own updates. In addition multitasking is completely necessary.
Symbian: Nokia needs to step-up on their hardware's power. The N-Series, E-Series devices are high-quality but the processors used inside of them are clocked at laughable speed. In addition the S60 email experience is terrible, to say the least. Perhaps the Symbian foundation's next releases will rapidly improve on this. I am not quite sure yet.
WebOS: Palm has already made an Os that also thrives in 'the cloud'. Palm's hardware manufacturing sadly falls short of other manufacturers. Palm should let HTC manufacture their devices and instead put more time and effort into evolving WebOS. In addition, gaming support is necessary for the mainstream consumer.
Windows Mobile: Multi touch, capacitive screens, Zune integration. There are so many opportunities that Microsoft has refused to take advantage of thus far.
Let's hope for a better tomorrow.
Long live Windows Mobile!