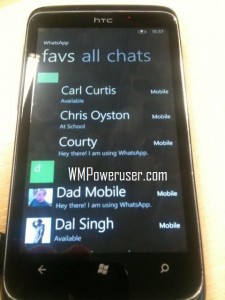 Plaffo reports one of their users asked to join the WhatsApp private beta and received the following response:
Thanks for your message and interest. We Should Be releasing a public version to the next 24 hours Within The Marketplace, I know I do not think there is much point in sending you a link to the closed beta group.
WhatApp is the long-awaited very popular messaging client which leaked recently and is already being used by a  number of homebrew enthusiasts with unlocked handsets.  Looks like we will be joining the fun ourselves soon.
Update: Reader Mike asked about support for NoDo handsets and received the following answer:
WhatsApp Support:
Hi,

Thanks for your message.  Yes, the WhatsApp version for Windows will require Mango.
Of course in a month's time this will not be a problem at all.
Thanks Mike for the tip.