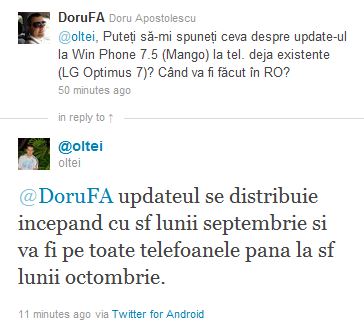 Via Doru Apostolescu we hear than Vodafone Romania is also getting set to roll out the Mango update soon.
They give a pretty clear time scale, saying it will start by the end of September and finish by the end of October.
We have recieved an anonymous insider tip telling us , after the NoDo update "took too long" and embarrased Microsoft, the aim with Mango was for a "synchronized" update to Mango, getting the software on all Windows Phone 7 handsets on all carriers in a short time frame, basically "making (the) Android update model look very dated".
We wish Microsoft the best of luck with that, and hopefully Microsoft can redeem their model, which did look somewhat tattered and not far off the Android version earlier this year.