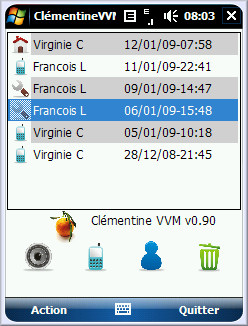 As is often the case, Orange in France has created attractive mobile internet packages for the iPhone, better than what is available to other phones. Many French users signed up for the plans but without buying iPhones (easy to do online) and therefore able to continue using their more functional Windows Mobile smartphones.
Soon however these users noticed they were receiving strange text messages such as this:
STATE? Active;server=vvm.orange.fr; port=143; pw="motdepassechiffré"; name="336votrenuméro"
It soon became clear that this was the visual voice mail system, included in the iPhone data package, sending a text message alerting the phone to download the voice mail. It also soon became clear that the data could be plugged into any e-mail client that supported IMAP and that the voice mail could then be accessed as an .arm attachment on the phone.
User flap on the smartphonefrance.info went on to develop an application to take advantage of the discovery, and so Clementine VVM. See the video below of the app, currently on version 0.9 in action.
Read more about the development of the application at smartphonefrance.info and the Clementine VVM blog here.
One does wonder if Visual Voice Mail works the same all round the world where this is implemented, because if it is this app is likely to work well with only slight modification. Do any of our readers know?
Let us know in the comments below.