Earlier this year, Vaio unveiled the company's new Windows 10 Mobile, the Vaio Phone Biz. The device is expected to go on sale this April in Japan for 50,000 Yen ($420 approx). Ahead of the official release, the device seems to have passed Bluetooth certification: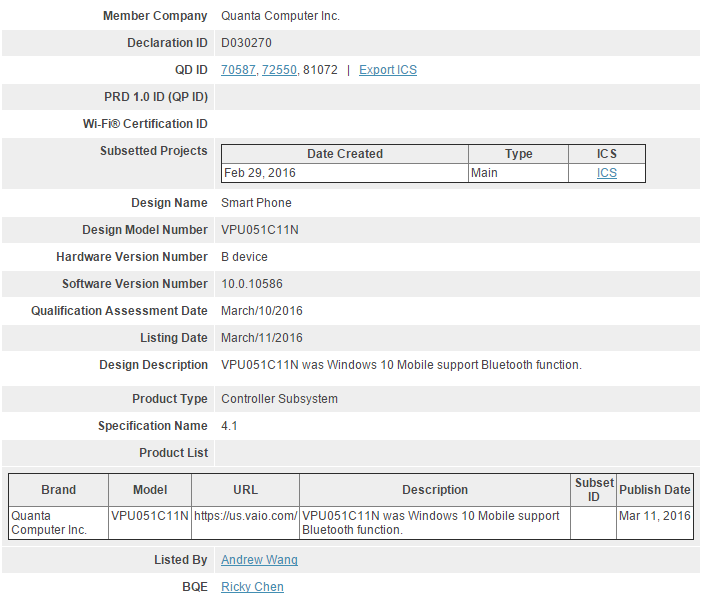 As you can see in the above screenshot, Vaio's VPU051C11N passed Bluetooth Certification. According to Japanese blog BlogOfMobile, the VPU051C11N is Vaio's Phone Biz device. Now, interestingly enough, it seems like Quanta Computer Inc. is manufacturing the Vaio Phone Biz.
For those unfamiliar, the Vaio Phone Biz is powered by the Qualcomm Snapdragon 617 processor (clocked at 1.50GHz), 3GB RAM and 16GB internal storage. It also supports Windows 10 Mobile's Continuum for phones feature. As for the display, it features a 5.5-inch full HD display. For the cameras, Vaio is packing an 13MP rear camera, and 5MP front camera. The device has got a sleek look with its aluminum build on the back and tempered glass on the front. It supports NTT Docomo's LTE network in Japan with speed up to 225mbps and it will be sold unlocked. The device supports Bluetooth 4.1.