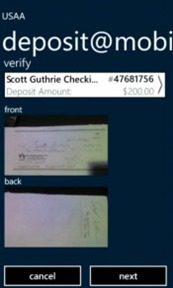 We write regularly about the addition of banking apps to the Windows Phone store, but sadly today we have the opposite news.
USAA, which is one of the first banks to support Windows Phone and also support check deposits from the app, has dropped its Windows Phone 7 app, and is hesitant about creating a Windows Phone 8 one.
Complaining that only 0.2% of their traffic was coming from the app (without clarifying if this included desktop traffic) the company said some of the features of their Windows Phone 7 application was not working properly on Windows Phone 8, and that the amount of usage did not justify the investment.
"We currently do not have a Windows Phone 8 app because of low member adoption of this product," said a USAA spokesperson in an email to BTN. "We are continuing to evaluate whether to provide support for Windows [Phone] 8."
It appears the WP7 app has now also been pulled.
A Facebook page protesting the change has been created (which could do with more likes), while USAA said it was "continually improving mobile.usaa.com, which has been redesigned to give members quick access to USAA without having to download our app."
Microsoft commented:
"Microsoft is pleased to feature Windows Phone 8 apps from some of the largest financial institutions including Bank of America, U.S. Bank, BBVA and Chase. We are working with developers representing a variety of financial institutions, and more banks are responding to customer demand by developing new apps as we speak. There also are more than 25 additional apps available from banks outside of the United States."
In many ways Windows Phone has mindshare out of proportion to its usage base for example 8% of developers are working on games for the platform which only has less than 4% of the users.  Do our readers think developers and companies will invariable be disappointed that their app is not downloaded and used as often as they expected? Let us know below.