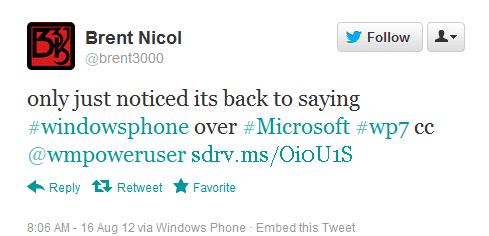 A while ago it seemed Microsoft lost a very useful advertising opportunity by changing the origin of tweets sent from Windows Phones from "via Windows Live" to "via Microsoft".
It seems some-one realized that Microsoft did not really need any further advertising, but Windows Phone certainly did.  Now tweets send from Windows Phones are labelled via Windows Phone and tweets from SkyDrive are also labelled via SkyDrive.
Clicking on the link now also takes you to the Windows Phone portal, offering another opportunity for potential buyers to learn more about the OS.
Hopefully we will continue to see more such smart moves in Windows Phone marketing over the next few months.
Thanks Brent3000 for the tip.