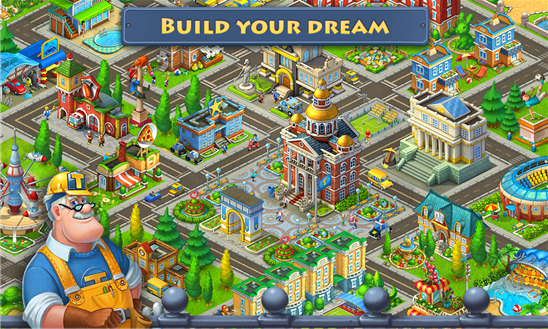 Popular mobile game "Township" is now available for download in Windows Phone Store. It comes with a blend of city-building and farming experiences as you create the perfect place to live, work and play. Township is completely free to download and play.
Game Description:
Share your vision of a perfect place to live in! Harvest crops, run processing facilities and sell goods to develop your town. Explore the mine to get resources and collect ancient artifacts. Open cafes, cinemas and other community buildings to encourage social life. Are you ready to build your dream?
Features:
* FREE TO PLAY!
* Use the variety of community buildings and decorations to create the town of your dreams
* Grow organic crops and process them on factories
* Charismatic and fun characters with quirky personalities brighten up the life of your town
* Enjoy easy, smooth and fun gestural controls
* Collect ancient artifacts by exploring the mine in your town!
* Build the famous landmarks, such as the Statue of Liberty, the Eiffel Tower, the Maya Pyramid, and many others!
* Make changes to the landscape to suit your architectural needs
* Amazing animations and sounds make your town feel bustling with life!
Download it here from Windows Phone Store for free.