eyeSight Mobile Technologies, a developer of Hand Gesture Interface solutions for mobile phones and consumer electronics devices, announced the successful launch of a unique new application which allows users to control a mobile phone MP3 player with simple hand gestures.
"Moove" MP3 Player , available only to the Nokia 5800 XpressMusic users has had more than half a million downloads from Nokia's Ovi Store. "Moove" MP3 player allows users to play or stop tracks, as well as skip between songs by using simple hand gestures above the device's frontal camera.
So, for instance, people who are running on a treadmill can simply place the device on the treadmill deck and skip songs while running without touching the device.  Drivers can operate their smartphones with a wave of the hand, allowing them to control the music player or mobile phone navigation system without looking at the device to find its controls.
"The Hand Gesture Interface that offers interaction Beyond Touch, has been enthusiastically adopted by users of touch screen devices," said Itay Katz eyeSight's founder & CEO. "We are in talks with mobile phone manufactures to license the Hand Gesture Interface to be integrated into new smartphones."
The Touch Free technology can be applied to any camera-enabled device, including mobile phones, navigation systems, netbooks, MP3 players and more.
Pocketlint notes that Microsoft suggested such Kinect-like technology may come to Windows Phone in the future also.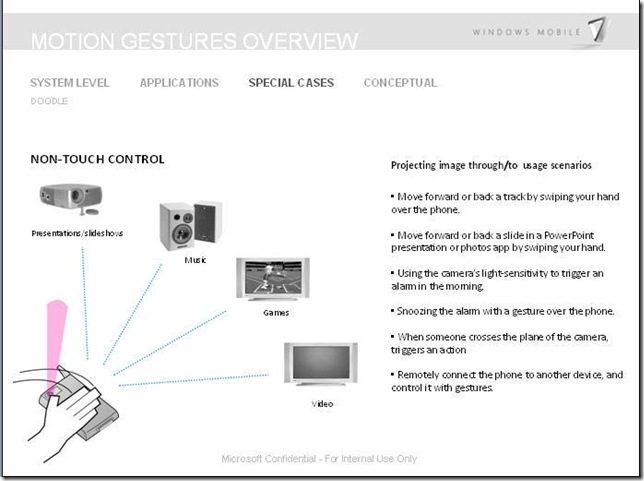 One cant also help but remember Microsoft has had such ambitions for Windows Mobile 7 in the past, as laid out here.
"Windows Mobile 7 will use motion gestures, something the iPhone does not. It will not use an intricate and complicated series of gyroscopes and accelerometers. Instead, it will use the camera on the phone to detect motions and create appropriate actions. You will be able to shake, twist and otherwise manipulate the phone and get things done. The phone will be able to perform actions when placed face down on a surface, and it will know when it is in your pocket or bag."
Do our readers see a use for this technology? Let us know below.