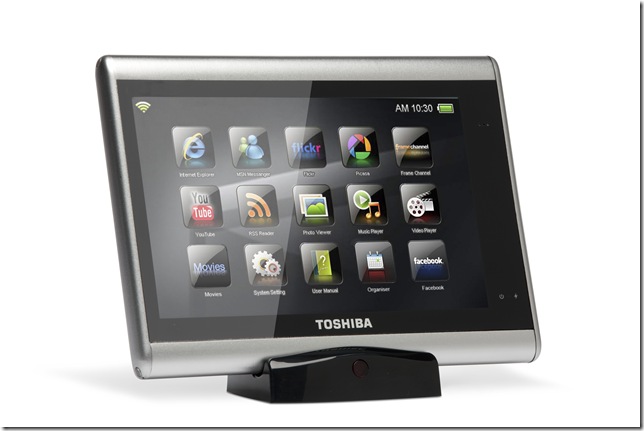 Toshiba UK today launched the Journe Touch, a 7" touch-screen mobile internet device.  Featuring an advanced Win CE 6.0 interface, the Journe Touch is the perfect device for consumers who want access to multimedia content and social networking platforms.
The Journe Touch has been designed to offer multiple uses for consumers – both on the move and around the home. Small enough to be personal and big enough to share with others, the device is capable of fulfilling a number of applications, including everything from web browsing, IP radio and social networking, to image viewing and high definition video playback – and much, much more.
The Journe Touch offers the following key features:
WinCE 6.0 Pro operating system
The inclusion of Win CE 6.0 Pro provides the Journe Touch with a premium-quality, easy-to-use mobile operating system. Both clean and intuitive, the Win CE 6.0 provides an easy-to-navigate user-interface with extensive file format compatibility, ensuring that users will be able to play back a wide range of file formats using Windows Multimedia Player 9.0 software client. Internet Explorer 6 is also included, providing a high-quality mobile browsing experience on par with that of a PC.
7" touch-screen
The Journe Touch features a large 7" TFT touch-sensitive display, making it simple and easy to navigate the intuitive and user-friendly interface. A resolution of 800×480 and an LED backlight means that the 16:9 screen provides images that are crisp and vibrant, while a contrast ratio of 300:1 ensures that all colours are true to life – creating images of excellent all-round quality.
Extensive format support
With full support for MPEG 4/H.264, the Journe Touch is the perfect mobile companion for watching HD video, whether on the move or around the home. WMA and MP3 audio support provides the ability to play back audio either with or without DRM, while JPEG compatibility also allows consumers to use the Journe Touch as the perfect platform on which to both store and display their photo collection.
Extensive wireless connectivity
Integrated Wi-Fi 802.11b/g wireless connectivity supporting WEP, WPA and WPA2 is available as standard, ensuring high-speed, secure web-browsing within reach of wireless networks and hotspots. The Journe Touch also offers support for 3.5G mobile web browsing using an external USB mobile dongle, enabling users to stay connected wherever they are.
HDMI and USB connectivity
Using an optional cradle, the Journe Touch becomes instantly HDMI compatible. HDMI connectivity provides users with additional flexibility to view their content in a number of different ways, ensuring compatibility with HD ready TVs and laptops for group movie-watching, online socialising and image sharing, or simply browsing the web on an even bigger screen. Integrated USB connectivity provides users with easy access to content stored on the device and allows for the simple and easy transfer of media to the Journe Touch from external devices.
Social networking access
As well as being a premium device for viewing multimedia content and browsing the web, the Journe Touch enables users to enjoy one-touch access to a number of social networking platforms out of the box. Services supported as standard include:
• YouTube: The world's most popular video-sharing platform, allowing users to easily upload and share video clips
• Acetrax: A popular video-on-demand service that also provides users with the option of downloading and streaming movies directly to the device
• FrameChannel: A platform optimised for small screens that allows users to hand-pick content from a panel of different content providers and view directly using the Journe Touch
• Picasa: An online platform that organises users personal photos and makes photo sharing with friends and family members easy
• Flickr: A popular online photo management and sharing application
• MSN Messenger: Voice and message-based chatting.
In addition to social networking clients, the Journe Touch also manages RSS feeds, allowing users to access all the latest news from their favourite websites, downloaded directly to their device in real time.
Expandable SDHC storage
As well as 1GB integrated flash memory, Toshiba's Journe Touch offers support for high capacity SD cards of up to 32GB, allowing users to extend overall storage capacity to suit their individual requirements. The flexibility offered by removable SD storage also ensures that users have complete control to organise their content the way they want.
Long-life battery
A high-capacity internal Lithium-ion Polymer battery provides up to  7 hours of audio playback, or 2 hours  of internet browsing, easily providing consumers with enough power to cover long-distance journeys ; making it the perfect travelling companion.
See an interview on the device below: