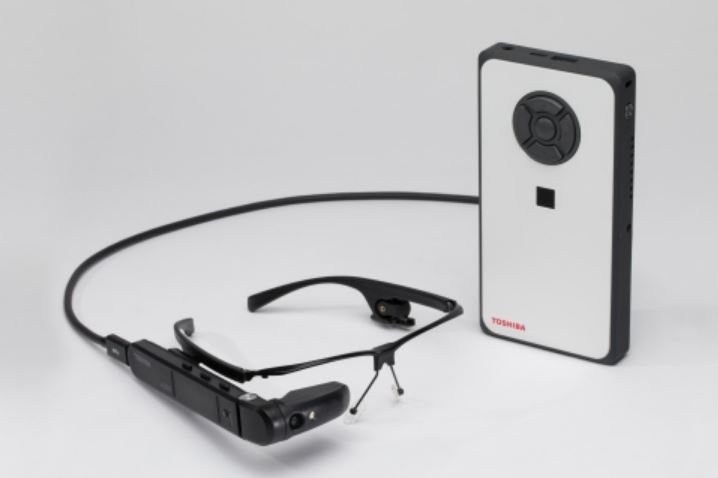 Toshiba today announced the new dynaEdge AR Smart Glasses powered by Windows 10 Pro PC targeting industrial customers. The new dynaEdge AR Smart Glasses package includes the new dynaEdge AR100 Head Mounted Display (HMD) and the dynaEdge DE-100 Mobile Mini PC.
First of all, this is not a HoloLens competitor. This is more of like Google Glass powered by Windows. The HMD weighs less than two ounces and features an integrated micro display that provides a viewing experience equivalent to a 4.1-inch display seen at 14 inches. It also has an integrated touchpad for easy controls, GPS, three-axis accelerometer with a gyroscope for head tracking, 5MP POV camera, speaker and dual noise-canceling microphones for voice communications.
The dynaEdge DE-100 Mobile Mini PC is powered by 6thGeneration Intel Core M Processors, Intel HD Graphics and Intel Dual Band Wireless-AC 8260 802.11ac Wi-Fi.  The dynaEdge DE-100 Mobile Mini PC measures 6.5 x 3.3 x 0.8 inches thin and weighs less than 11 ounces. It features a five-button, on-device navigation system to enable up/down, left/right toggles as well as an enter button for easy navigation. There's also a finger print sensor for Windows Hello authentication. It comes with removable battery and Toshiba is also selling an optional external battery charger that charges four batteries simultaneously.
To make it more suitable for variety of industrial needs, Toshiba is offering this HMD with a variety of mounting options such as Lens-less Frame, Safety Frame, Safety Helmet Mounts and Headband.
"We are thrilled that Toshiba is building innovative intelligent edge solutions that take advantage of the power and security of Windows 10 Pro," said Peter Han, Vice President, Partner Devices and Solutions, Microsoft. "The DynaEdge AR Smart Glasses is a unique mobile solution that empowers industrial workers by providing the flexibility and security they need to be productive whether they're in the office or out on a job site."
Toshiba's new AR solution provides Document Viewing, Live Video Calls, See-What-I-See, Photo/Video Capture, Alerts/Messaging, Workflow Instruction and Barcode Scanning capabilities making it ideal for a variety of uses cases, including Maintenance, Remote Expert, Manufacturing, QA Inspection & Audit, Logistics, Training and Knowledge Transfer.
The new dynaEdge AR Smart Glasses will be available in the second quarter of this year starting at $1,899.99
Source: Toshiba