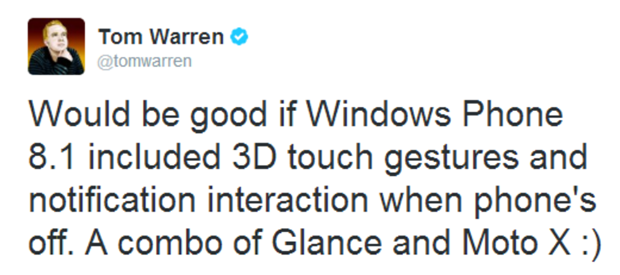 Tom Warren, Senior Verge Editor, claims to have seen Windows Phone 8.1, and has been teasing a variety of features over the last few weeks.
Today he posted the above enigmatic tweet, suggesting it " would be good if Windows Phone 8.1 included 3D touch gestures and notification interaction when phone's off."
We have ourselves of course received information that WP 8.1 will enable touch-less voice commands like "Ok Google" on the Motorola X, which does not require touching the handset to activate. The addition of gestures, possibly via multiple proximity sensors, would also be a natural if rather gimmicky extension of this.
Of course there is nothing about Tom's tease which promises that these features will be on the way, but they are also not impossible.
Tom Warren himself, has previously posted on The Verge that the rumoured Nokia Goldfinger  will feature "3D Touch", which is believed to be a gesture-based system which would allow users to scroll the web browser or move to the next music track merely by moving their hand above the screen, much like Airplay.
Do our readers want these Samsung-like gimmicks on Windows Phone? Let us know below.