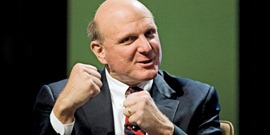 It has become the favourite meme of the blogosphere that Microsoft as a company is over the hill, and that they have no place in the future, dominated by Apple and Google.
The meme has become so strong it is affecting the company's share price and having a demoralizing effect on the company's employees.
In a blog post on Technet Frank Shaw, Corporate VP for Corporate Communication reminded the blogosphere that Microsoft is in fact doing pretty well.
He starts with 150 million Windows 7 licenses sold, at around 7 every second.  He reminds readers that iPads, touted as decimating netbooks which sell in the same price band, is expected to sell less than 1/8th as many as netbooks, and of course less than 2% of total PC sales.
He goes on to tout occasions when Microsoft has been counted out before, and has managed to soundly beat the competition.  Examples are in the last supposed PC revolution, the netbook, there Microsoft started with less than 10% market share, and now has 96%
Another area where the company went again the received wisdom is in the server market, where Linux was meant to negate any advantage Microsoft had on the desktop, where Microsoft has not only held the free bearded OS at bay, but increased market share to 73%.
The company, supposedly stodgily tied to the desktop, also hold key cloud positions, like the largest web-based email service (at 360 million users, Hotmail has twice the number of the loud-mouthed 173 million Gmail users), the largest paid online subscription service (23 million Xbox Live subscribers), the largest IM network in the world (299 million active Live messenger users, beating the likes of Skype or AOL).
Shaw of course realizes that despite many number 1 positions, mobile is not one of them, and the company intends to address this.
In a letter to Microsoft employees he states:
Yes, we want to (and will) do better in phones. Yes, we want to (and will) have more cool thin slate/tablet/other form factor devices that run Windows.
Unlike other companies that hold dominant positions like Apple in music players and music stores, Microsoft is being prevented by anti-trust action from leveraging their natural advantages. We have however seen in the last year the company rallying their other properties to create new synergies.  Microsoft is leveraging their hard-fought success in gaming to support Windows Phone 7 with casual games being developed in the same language and easily ported from one to the other, the company is using the same sign-in for Xbox Live and Live Messenger as for Windows Phone 7, they are spanning cloud services from their Office suite with hundreds of millions of users to their Messenger service with similarly hundreds of millions of users (via their new Wave 4 Messenger, which integrates with Skydrive) to Windows Phone 7, meaning when users pick up their Windows Phone 7 device all their stuff will be available already.  They are leveraging their Bing investment to boost their Zune service, which integrates with Xbox Live and of course Windows phone 7.
Microsoft is doing this all without touching the desktop, fighting with both arms tied behind their back, but there is no doubt the company is playing to win, and after years of forced investment in the post desktop world, will soon have a pretty coherent and compelling story to tell, Apple or Google be damned.
History is littered with companies that counted out Microsoft, including Apple in the 80's, Borland and Sun in the 90's and Netscape in the 2000's. And those who forget history tend to see it repeated.
Read the blog post here, and the letter at AllthingsD here.