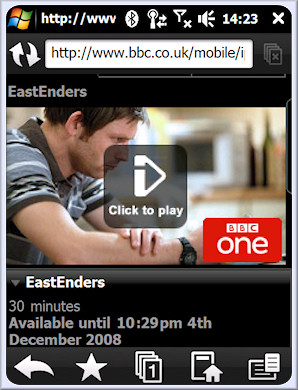 The BBC's iPlayer service has been rolling out and supporting more and more smartphones, but as they do it on a device by device basis that has left the varied ecosystem of Windows Mobile at a distinct disadvantage.
Fortunately we have more control than most over our devices, and the following hack will allow the video streaming service to work on any device.
You need to change the user agent in Opera Mobile to spoof the Samsung Omnia, the only supported Windows Mobile phone.
The instructions are as follow:
Run Opera
In the address bar enter opera:config (no http://)
Scroll down to User Prefs and click
Scroll down to Custom User-Agent and at the end of the pre-filled text add sgh-i900
Scroll down some more and press Save. You will get a prompt which suggests you may need to reset the phone, but for this you don't.

Now point your browser to http://www.bbc.co.uk/mobile/iplayer/ and enjoy. The video opens in HTC Streaming Player on HTC smartphones.
The hint is courtesty of the Artesea blog. The steaming service likely works only in UK. To get your streaming TV on elsewhere it was recently noted that Skyfire allows non-US residents watch Hulu from anywhere in the world.