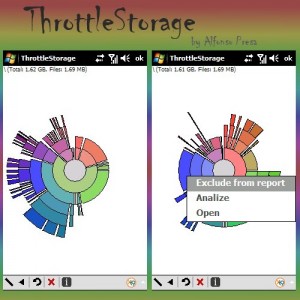 If you are one of those people obsessed with storage space on your device, much like myself, there is now a new application to assist in keeping track of all the content stored on your favorite Windows Mobile handset. ThrottleStorage 0.1 is now available, and ready to lend a hand in managing those files for you.
What exactly does ThrottleStorage do? Here is a short excerpt straight from the developers site:
"It shows you graphically how your storage space is being used displaying a circular chart so you can easily locate which folders are taking more storage. You can navigate through all of your folders and analyze each one in detail or exclude them from the report."
ThrottleStorage 0.1 works with all WinMo 5 and 6 operating systems, and is compatible with all screen resolutions. .Net Framework 2.0 is required as is 30KB of free storage and at least 1.5MB of free memory. Installation comes in the form of an exe file using active sync. Currently, ThrottleStorage 0.1 is freeware, with donations gladly accepted.
If this utility sounds like something you have been on the hunt for, give it a shot and let us know in the comments what you think.
For the original descrption and to download, go here.