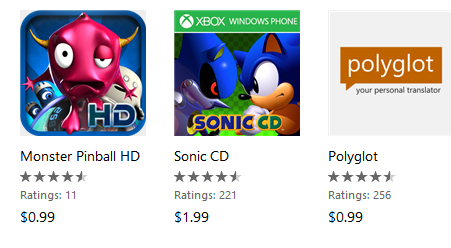 This week's Windows Phone Red Stripe Deals, which are apps which have been deeply discounted for only a week, includes two games and one utility.
Polyglot is a highly rated app which has the ability to translate text back and forth between more than 30 languages, as well as playback audio of the translation and voice-to-text.
The app, which has a free trial, can now be found in the Windows Phone store here for $0.99.
Next up is Sonic CD, which really needs no introduction.  In the Xbox Live game players have to put an end to Dr. Eggman's nefarious schemes, by using the power of Little Planet to travel through time; breaking Dr. Eggman's hold over the future by destroying his machines in the past and recovering the missing Time Stones.
The enhanced classic game can be found here for $1.99.
Monster Pinball HD is a graphics upgrade to the very popular Monster Pinball game with 6 linked tables which  offers stunning graphics, zany sound effects, automatic table switching, high scoring, fast action, and hours of fun.
Monster Pinball HD can be found in the Windows Phone Store here for $0.99.