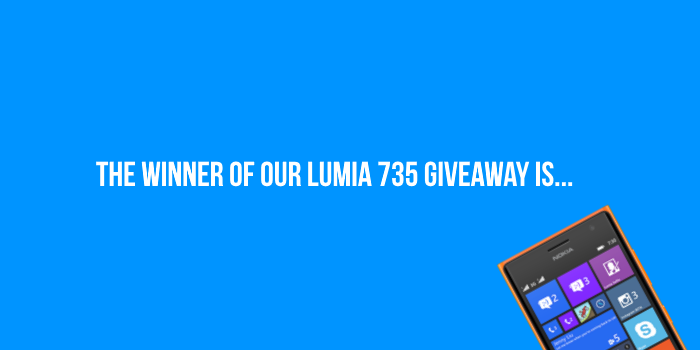 We have had a terrific response to our Nokia Lumia 735 give away, with thousands of entrants from all over the world.
This is no surprise, given that the Nokia Lumia 735 is possibly the perfect gift this holiday season, providing a combination of looks, power, affordability and features that is difficult to beat with another Windows Phone.
The winner of our contest, chosen by random number generator, is Mona Monroe from Zagreb, Croatia, with her tweet from the 16th November.
Win a Nokia Lumia 735 at http://t.co/2XWutxOm1S, my source for Windows Phone News: http://t.co/GUJY5sMhgu #WMPUNL735contest

— Mona Monroe (@MonaMonroe13) November 16, 2014
We shall be contacting her and arranging delivery ASAP.
Thank you for all the people who entered, and remember, if you did not win this time, we will be doing it all over again in another week's time.
Also continue to keep an eye on the site by following us on Facebook, Twitter or Google +, as we have some more great give-aways coming over the next few days.