Over the past few weeks, I have read articles speculating on what the next Facebook killer would look like. The most notable was by Paul Adams, a former Google employee who recently got hired by Facebook. He wrote an insightful presentation titled, The Real Life Social Network in which he details the weaknesses of the current social networks and what can be done to improve them.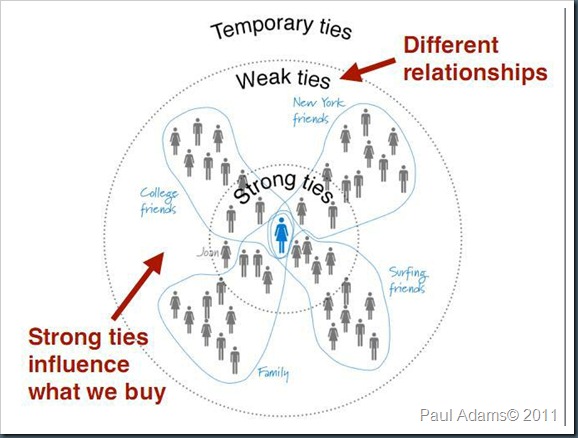 The presentation outlines the premise  that current social networks are monolithic in nature and do not take into account of how people interact in real life. Here are some excerpts
Strong ties are the people you care about most. Your best friends. Your family. People often refer to strong ties as their "circle of trust." We rely on strong ties for emotional support
throughout life. Research has shown that maintaining our strong ties is important for our well-being. People with strong friendship bonds have lower incidents of heart disease, and get
fewer colds and cases of the ?u.
A study of 3000 randomly chosen Americans showed that the average American has just four strong ties. Most had between two and six.
Another study of 1,178 adults found that on average, people had about 10 friends they meet or speak with at least weekly.
Many research studies have shown that the vast majority of usage on social networks is with small numbers of strong ties. The average number of friends on Facebook is 130, and many
users have many more. Yet despite having hundreds of friends, most people on Facebook only interact regularly with 4 to 6 people.
Strong ties also dominate phone usage. 80% of phone calls are made to the same 4 people.
A study in the 1970s showed that the majority of phone calls were to people who live within ?ve miles of the caller's home.
Most of us can only stay up-to-date with up to 150 weak ties. This is a limitation of our brain. This number has been consistent throughout history.
With that in mind, new startups are emerging trying to take a shot at the holy grail of the social graph. Path, a social network that limits users to fifty friends launched last year.  From their blog
Path is the personal network.  A place to be yourself and share life with close friends and family. The personal network doesn't replace your existing social networks – it augments them.

Path allows you to capture your life's most personal moments and share them with the 50 closest friends and family in your life who matter most.

Because your personal network is limited to your 50 closest friends and family, you can always trust that you can post any moment, no matter how personal. Path is a place where you can be yourself.
Diaspora takes a different angle and focuses on the users privacy by creating decentralized independent nodes in which no one company owns the user's data. Contacts are sorted by "aspects" which are similar to the independent groups in the above graphic.
Yesterday, I came upon an article by Venture Capitalist, Fred Wilson titled "Building better social graphs" here are some excerpts
I've been thinking for a while now that there will not be one social graph to rule them all (Facebook) but that we will eventually have a multitude of web/mobile services in our lives, each with a social graph we curate specifically for that service
Yesterday, in a series of chats with my colleagues at USV, it started to become clear to me that the mobile phone address book may well be the answer.
Mobile messaging is clearly a perfect match for a contact book on a mobile phone. But all web/mobile services can and should use this move to quickly build application specific social graphs. The people in our phone contacts are our "strong ties" and we should want them in most any social graph we curate.
As I read these three articles and their focus on giving users a better experience with their "strong ties," I realized that the Kin Loop exactly did what they were talking about. The Loop in my opinion, perfectly fit Mr. Wilson's vision of a "micro social network" based on a person's mobile phone contacts . With it, the updates were filtered by contacts from favorites list "strong ties," which then showed up more frequently on the news feed.
With the users now being able to form their own micro social networks, a new problem arises. With the phones only containing a finite amount of storage for our ever increasing amount of digital content, there is a need for backing up all this information but in a way that preserves the context. I wrote about it once on this post titled "Memories remain," but the issue was made even clearer by the article titled " A future without personal history" by 16 year old New Zealand Blogger, Michael Moore-Jones. He was concerned about young people losing their history due the throw away nature of digital content once storage spaces gets filled up, or the devices get upgraded or become obsolete. Exacerbating the problem are the myriad sources that produce or house the content with not central place to aggregate it all. That is what the Kin Studio solved, not perfectly, but better than any systems currently available.
When Microsoft introduced the Kin last April, they touted the devices as the ultimate social networking phones for the Facebook generation. That dream however was short-lived. Most of the shortcomings on the phone were Microsoft's stupid limitations, like the lack of a calendar and task manager, instant messenger, navigation and geo-location services and a market place for apps and games (just to name a few), which were important for the target demographic. What the phone had however, were unique features, the Kin Studio, the Kin Loop and Kin Spot. Now looking back, the Kin Phones were ahead of their time!
Windows Phone 7 has some of the elements of the Kin, and the People hub has the potential to be modified and made to function more like the Kin Loop. They will need to add a favorites section "strong ties," while still maintaining a recent list, perhaps like this concept here. The next tab for "All," will also have to be modified to toggle between "All" and "Categories" like work, family, doctors e.t.c. The  "What's new" section will default to only favorite contacts' updates, but it will include a toggle to show all updates.
Windows live Messenger will become an integral part of the system to be used for messaging and even video calls. The "favorites" and "categories" from  your phone will then be synced to WLM for a seamless experience. The added wide range of partnerships with third party sites and compatibility with other IMs from other platforms rounds up the experience. My dream all-in-one client would be Microsoft Lync because it adds presence and voice features and the app can be made available to other platforms. The biggest challenge I see is how to sync the favorites on the phone, with the favorites lists on the big social networks, so that status updates are only visible to them by default, instead the entire friends list.
Facebook will still remain dominant, but it will be more for staying in contact with the "weak" and "temporary" ties, while mobile phones with WLM/ Microsoft Lync will take care of the "strong ties". Mr. Adams move to Facebook may change their focus, but that remains to be seen. Microsoft in my opinion, has all the ingredients for creating a viable micro social network, a phenomenon  that some industry watchers are billing as the next evolution of the social graph. Will they take advantage of it? Only time will tell.