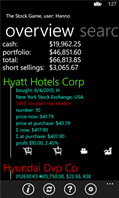 Hanno, the developer behind the very popular stock trading simulator "The stock game" has just mailed me a message saying an update for his game was published  this night.
The main changes are…
Trading of stocks is only possible while opening times of the stock
exchange. Orders out of this time will be handled when the stock
exchange opens again
News feeds for all stocks, commodities and stock indices
The Malaysian Ringgit, Turkish Lira, Russia Ruble and Pakistan Rupee
are now part of the currency list
The updated version 3.3 should be available from now on and you'll be notified by the Windows Phone store tile on your device. Alternatively you can check here whether the update is already downloadable.