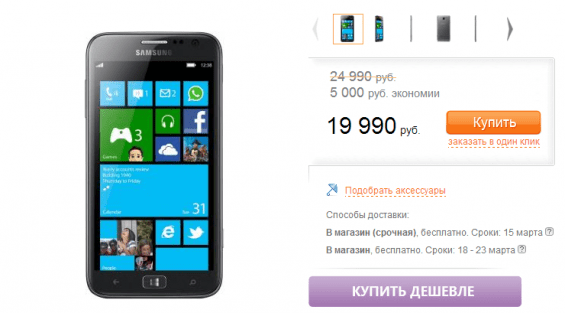 WinPhoneLive.ru reports that the Samsung ATIV S must be selling very poorly in Russia, as the price of the handset has dropped once again.
We posted a week ago that the price has dropped by $100 to  $720 or 21,990 rubles. Now it has dropped another 2 000 rubbles to 19,990 ($650).
WinPhoneLive notes that means you can get a 4.8 inch HD Windows Phone now for the same price as the Nokia Lumia 820 and that such a rapid fall in price is unprecedented, with the price falling more than 5000 rubles in less than a month.
We also posted a few days ago of similar steep price drops in Germany, where the handset can be secured now for as little as 330 Euro.
Overall I think this is evidence that buyers are showing a clear preference for Nokia's Windows Phones, and understand the value proposition its exclusive software brings.
Do our readers agree? Let us know below.