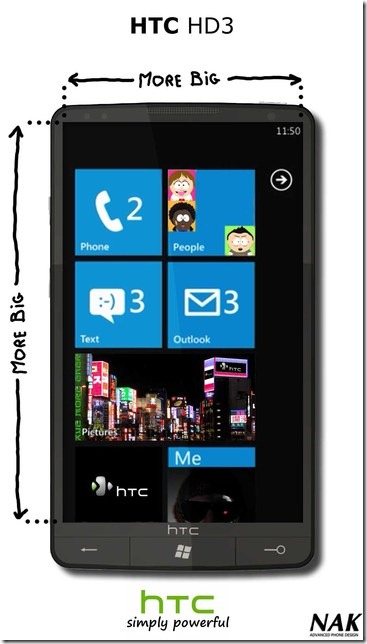 The HTC HD2 concept is still percolating its way through the internet, and we have been lucky enough to get the original designer, Psikopathe to comment on the phenomena.
He writes:
Hi, I'm the guy who create the HTC HD3 concept and who didn't have the control of its diffusion on internet !!!

At the beginning I was just trying to create some cool concepts of cellphones and when I bought a HD2 in November I thought that it was the best phone I'd ever had so I decided to try to imagine the future HD3 in tribute to HTC (for me the most innovative brand) and after, the Internet has done the following history !!!…

First, after I finalized the concept, I contacted some cool website like WMPoweruser, ConceptPhone, Le Journal de Geek (French), etc … and I clearly said that it was a personal concept.

The first publications had a title with "concept" and two or three days later the "news" appear on other sites without "concept" but with "leaked" … the first case is is likely that the editor wanted to deliberately make a buzz or in most of the other case he didn't read the full first article and saw only the pictures (or possibly did not understand the site language).

At this time, when my concept became a HTC leaked news, lot of sites wrote about it and for those who keep the fact that it was a "concept" I became "a French designer" or "a French group of designs" … it was really amazing !!!…

People can see only what they want to see, I say that because lot of things in my concept should had show that it was not a real HTC future product but just a concept from someone:

– I decided to write "more big" instead of "bigger" just to keep the HTC word "big". Only few people saw this intentional mistake.

– I changed the slogan of HTC to "simply powerful" … Why not ?… 🙂

– I keep the unlikely specifications of the phone which appeared at the beginning of this year (for example the screen resolution which is not supported by windows phone 7 !!!).

And yet the concept or the leaked still turned up in the world 3 months later!!!…

Seriously, I'm really surprised about the increase amplitude of my concept. I'm just an unknown French guy alone in these sneakers (I'm not a professional) and who had his Andywarholian quarter of hour of glory !!!…

All my others concept didn't have that much interest and I just had to write "HTC" on one for it to become famous in the world ?…

I've a new one to publish (for next few weeks), I have to call it "new NAK Phone" or "HTC HD4" ??… 🙂

Anyway I didn't only create the "HTC HD3", I imagined some others and you can view here (and contact me using the site mail address*) …

Thanks to the world for these months of glory !!!…

Cheers.

Psikopathe.

Your comments are welcome.
Thank you to Psikopathe for an interesting view into the other side of the phenomena. Cant wait for the next one 😉